01.12.2016 | Research article | Ausgabe 1/2016 Open Access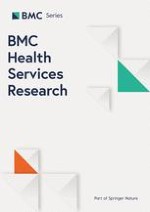 Transitional care in skilled nursing facilities: a multiple case study
Zeitschrift:
Autoren:

Mark Toles, Cathleen Colón-Emeric, Mary D. Naylor, Julie Barroso, Ruth A. Anderson
Wichtige Hinweise
Competing interests
The authors declare that they have no competing interests.
Authors' contributions
MT, CCE, MN, JB and RA designed the study. MT recruited study sites and the participants. MT collected the data, supervised the transcription, wrote field notes and did the primary coding of field notes and transcriptions. During data collection and coding of the data, RA and CCE consulted with MT and provided guidance to assure rigor and consistency in study procedures. JB confirmed the reliability of the coding by redundantly coding 10 % of the data. MT, CCE, MN, JB and RA conducted the thematic analysis to identify themes in the coded data. MT, CCE, MN, JB and RA wrote the manuscript and developed the figure and tables. All authors read and approved the final manuscript.
Abstract
Background
Among hospitalized older adults who transfer to skilled nursing facilities (SNF) for short stays and subsequently transfer to home, twenty two percent require additional emergency department or hospital care within 30 days. Transitional care services, that provide continuity and coordination of care as older adults transition between settings of care, decrease complications during transitions in care, however, they have not been examined in SNFs. Thus, this study described how existing staff in SNFs delivered transitional care to identify opportunities for improvement.
Methods
In this prospective, multiple case study, a case was defined as an individual SNF. Using a sampling plan to assure maximum variation among SNFs, three SNFs were purposefully selected and 54 staff, patients and family caregivers participated in data collection activities, which included observations of care (
N
 = 235), interviews (
N
 = 66) and review of documents (
N
 = 35). Thematic analysis was used to describe similarities and differences in transitional care provided in the SNFs as well as organizational structures and the quality of care-team interactions that supported staff who delivered transitional care services.
Results
Staff in Case 1 completed most key transitional care services. Staff in Cases 2 and 3, however, had incomplete and/or absent services. Staff in Case 1, but not in Cases 2 and 3, reported a clear understanding of the need for transitional care, used formal transitional care team meetings and tracking tools to plan care, and engaged in robust team interactions.
Conclusions
Organizational structures in SNFs that support staff and interactions among patients, families and staff appeared to promote the ability of staff in SNFs to deliver evidence-based transitional care services. Findings suggest practical approaches to develop new care routines, tools, and staff training materials to enhance the ability of existing SNF staff to effectively deliver transitional care.