01.06.2014 | Clinical Investigation | Ausgabe 3/2014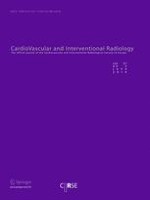 Transjugular Intrahepatic Portosystemic Shunt for the Treatment of Budd–Chiari Syndrome Patients: Results From a Single Center
Zeitschrift:
Autoren:

Katerina Fitsiori, Maria Tsitskari, Alexios Kelekis, Dimitrios Filippiadis, Konstantinos Triantafyllou, Elias Brountzos
Abstract
Purpose
To evaluate the outcome of transjugular intrahepatic portosystemic shunt (TIPS) in patients with Budd–Chiari syndrome (BCS).
Patients and Methods
Fourteen patients (11 female, mean age 45.8 years), with symptomatic BCS refractory to conventional therapy, were treated with TIPS placement in our department within a period of 9 years. Stent grafts were primarily used in 12 patients. Mean follow-up time was 38.1 ± 36.1 months (range 7–114). Model for end-stage liver disease (MELD) score, BCS Rotterdam index, and Child–Pugh score were calculated for all patients. In addition, the recently suggested BCS–TIPS prognostic index score (BSC–TIPS PI) was applied.
Results
BCS–TIPS PI score was ≤7 in all patients. Most of our patients (12 of 14) had good or intermediate prognosis according to MELD, Rotterdam and Child–Pugh scores. Technical success was achieved in all 14 patients and was accompanied by complete resolution of the symptoms. In 3 patients, the procedure was complicated by hemoperitoneum, which was successfully treated in two patients with coils or stent-graft placement, whereas 1 patient was managed in the operating room. Thirteen patients are symptom and orthotopic liver transplantation–free. Primary patency was 92.8, 84.7, and 58.7 % at 6, 12, and 24 months, respectively. Secondary patency was 100, 100 and 84.6 % at 6, 12, and 24 months respectively.
Conclusion
In symptomatic BCS patients with moderate prognosis according to MELD, Child–Pugh, and BCS Rotterdam scores, as well as BCS–TIPS PI score ≤7, TIPS has high clinical success, low morbidity, and no mortality, and it offers durable mid-term resolution of the symptoms and OLT-free survival.