07.06.2019 | Original Paper | Ausgabe 6/2019 Open Access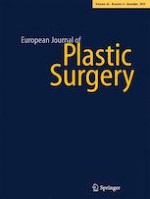 Translation and pilot study of the Cleft Hearing Appearance and Speech Questionnaire (CHASQ)
Zeitschrift:
Autoren:

Mia Stiernman, Ieva Maulina, Inta Zepa, Triin Jagomägi, Nenad Tanaskovic, Predrag Knežević, Radost Velikova, Youri Anastassov, Julija Radojićić, Zoran Pesic, Branislav Trifunović, Martina Drevensek, Radu Spataru, Tanja Boljevic, Radmila Dimovska, Slave Naumovski, Nichola Rumsey, Fabio Zucchelli, Nicholas Sharratt, Mario Argyrides, Kristina Klintö, Magnus Becker, Martin Persson
Wichtige Hinweise
Electronic supplementary material
The manuscript has been presented orally at the professional meeting Swedecleft on 2017-10-05 in Gothenburg, Sweden.
This study was made possible thru the platform and financial support of the European Cooperation for Science and Technology (COST) Action IS1210,
Appearance Matters - Tackling the physical and psychosocial consequences of dissatisfaction with appearance
.
Statistics was checked by statistician Jan-Åke Nilsson PhD, Department of Clinical Sciences in Malmö, Lund University, Sweden.
Translation and Pilot Study of the Cleft Hearing Appearance and Speech Questionnaire (CHASQ)
Publisher's note
Springer Nature remains neutral with regard to jurisdictional claims in published maps and institutional affiliations.
Abstract
Background
There has been a lack of a standardized protocol for collection of patient reported outcomes (PRO) and detection of and indication for psychological treatment in cleft care. The objectives of this paper was to translate Cleft Hearing Appearance and Speech Questionnaire (CHASQ) into eight European languages, to investigate whether levels of PRO in patients with cleft lip and/or cleft palate (CL/P) were comparable across countries and to investigate clinician experience of the instrument.
Methods
The PRO measure—CHASQ—was translated into Bulgarian, Estonian, Greek, Latvian, Macedonian, Romanian, Serbian and Swedish and implemented with patients in the respective countries. A focus group discussion was conducted to investigate health care professional experience on the use of CHASQ in their clinics. Data was analysed in accordance with the principles of thematic analysis.
Results
Analysis showed statistically significant differences between countries and groups of diagnosis in CHASQ scores. CHASQ helped clinicians gain patient information and informed on treatment decisions, broadened the clinicians' role as caregivers and was perceived as short and easy to use. Limited time and resources in clinics were limitations in implementing the instrument.
Conclusions
Translation and utilization of CHASQ facilitated international comparison and cooperation. Linguistically, valid replicas of CHASQ are now available in many European languages. Results from this study show that CHASQ may be used for collection of PRO on patient satisfaction and to spark conversation between clinicians, patients and families.
Level of evidence: Not rateable.