03.01.2020 | Original Article | Ausgabe 3/2020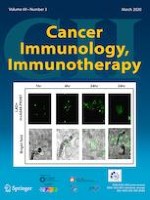 Translational immune correlates of indirect antibody immunization in a randomized phase II study using scheduled combination therapy with carboplatin/paclitaxel plus oregovomab in ovarian cancer patients
Zeitschrift:
Autoren:

Alessandra Battaglia, Alexia Buzzonetti, Marco Fossati, Giovanni Scambia, Andrea Fattorossi, Madi R. Madiyalakan, Yolanda D. Mahnke, Christopher Nicodemus
Wichtige Hinweise
Electronic supplementary material
Some of the results included in this paper were previously published in a poster at the 20th biennial international meeting (November 4–7, 2017, Vienna, Austria) of the European Society of Gynaecological Oncology (ESGO).
Publisher's Note
Springer Nature remains neutral with regard to jurisdictional claims in published maps and institutional affiliations.
Abstract
The standard-of-care (SOC) first-line therapy for ovarian cancer (OC) patients is plagued with high relapse rates. Several studies indicated the immune system's prominent role changing the disease course in OC patients. Chemo-immunotherapy regimens, currently being explored, include oregovomab, which is a monoclonal antibody specific for the OC associated antigen carbohydrate/cancer antigen 125 (CA125) that yielded promising results when administered together with SOC in a previous study. The QPT-ORE-002 multi-site phase II randomized study demonstrated that in patients with advanced OC, oregovomab combined with first-line SOC improved overall and progression-free survival, compared to SOC alone. The study included an Italian cohort in which we demonstrated that adding oregovomab to SOC resulted in increased patient numbers with amplified CA125-specific CD8+T lymphocytes/ml peripheral blood counts, which might explain the improved therapeutic effect of SOC + oregovomab over SOC alone. Predictive for oregovomab efficacy was a less suppressive immune environment at baseline as indicated by low numbers of circulating myeloid-derived suppressor cells, subset type 4, and a low neutrophil-and-monocyte to lymphocyte ratio.