01.11.2008 | Clinical Article | Ausgabe 11/2008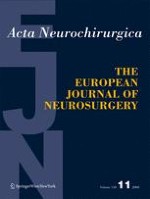 Transsphenoidal approaches to the pituitary: a progression in experience in a single centre
Zeitschrift:
Autoren:

Bulent Duz, Ferhat Harman, Halil Ibrahim Secer, Erol Bolu, Engin Gonul
Wichtige Hinweise
Comment
This paper provides a longitudinal view of the progression in technique for surgery of pituitary lesions over the past decade or so. This period was marked by increasing enthusiasm for the trans-nasal endoscopic approach, and by the adoption of this technique by several forward-looking groups in many parts of the world.
Along with others, the investigators began with the traditional sub-labial microscopic approach which has served patients so well for many years after its re-introduction in the 1970's. Along with others, they then moved to the direct endo-nasal microscopic approach which has been considered quicker and less "invasive". The next step was the introduction of the endoscope in traditional endo-nasal exposures, using the nasal speculum or retractor. Finally, they adopted and report upon the "pure" endoscopic approach, without speculum. They also have generally abandoned the use of intraoperative fluoroscopy and neuronavigation. Although their experience is somewhat limited in numbers of patients, the progression is logical and the results are very good.
One of the alleged advantages of the pure endoscopic approach is that it is "minimally invasive". Experience tells us that although the surgical trauma to the nasal structures may be less, this technique requires a more extensive sphenoidotomy in order to assure full mobility of the endoscope and lack of collision with other instruments. In this respect it is actually more invasive, particularly when the turbinate is resected, a procedure which we find unnecessary in most cases.
There is debate about the use of intraoperative imaging and navigation. In training programs, these adjuncts may be valuable in the education of residents and fellows. There is also debate about whether all young neurosurgeons should follow this type of progressive approach or whether they should simply begin with the endoscopic methods that have proven to be so effective.
Edward Laws and John A Jane Jr
Abstract
Background
Evolving of a single centre by means of different transsphenoidal approaches during the survey of methodological advances in pituitary surgery is presented.
Materials and methods
Ninety-three consecutive patients with pituitary adenomas underwent transphenoidal pituitary operations at Gulhane Military Medical Academy from January 1996 to October 2007. Retrospective chart-based analysis of the surgical methods of transsphenoidal pituitary adenoma operations were done. Surgical methods were described. Outcomes and complications were presented. Attention is focused on the methodology of different surgical techniques of pituitary surgery.
Findings
During the evaluation period, 12 Sublabial approaches (1996–1998), 13 transseptal transsphenoidal approaches (1999–2000), 15 endonasal transsphenoidal approaches (2000–2004), 25 endoscopy assisted endonasal approaches (2002–2006) and 28 pure endoscopic endonasal approaches (2006–2007) were performed.
Conclusions
Technologic advancements in endoscopy and gaining experience in pituitary surgery drives neurosurgeons toward less invasive approaches.