07.08.2020 | Original Paper | Ausgabe 1/2021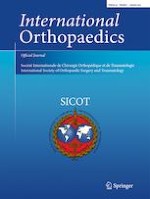 Transtendinous approach calcaneoplasty versus endoscopic calcaneoplasty for Haglund's disease
Zeitschrift:
Autoren:

Andrea Cusumano, Nicolò Martinelli, Alberto Bianchi, Angelo Bertelli, Alberto Marangon, Valerio Sansone
Wichtige Hinweise
Publisher's note
Springer Nature remains neutral with regard to jurisdictional claims in published maps and institutional affiliations.
Abstract
Purpose
In this study, we performed a comparison between open calcaneoplasty through transtendinous approach and endoscopic calcaneoplasty for Haglund's disease.
Methods
A retrospective review was performed of patients who had undergone either a calcaneoplasty with transtendinous approach or endoscopic for Haglund's disease from three centres. Inclusion criteria were patients with Haglund's disease confirmed radiographically, neutral alignment of the hindfoot and at least one year of follow-up. Patients were excluded in case of ipsilateral ankle osteoarthritis or other neighbouring joints, previous foot surgery, hindfoot malalignment and marked calcific insertional Achilles tendinosis. A chart review was performed to collect demographic data, including age, sex and body mass index (BMI). Functional outcome analysis included the Foot Function Index, AOFAS score and VAS for pain pre-operatively and post-operatively at the last follow-up. This patient-reported outcome scores were used in the native language of each patient (Italian).
Results
Clinical and functional outcomes were collected from 54 patients (28 heels treated by open technique and 26 heels treated by endoscopic technique). In the open group, the AOFAS score improved from a pre-operative value of 65.67 ± 10.09 points to a value of 91.78 ± 9.67 points at the last follow-up (
P
< 0.05). In the endoscopic group, the AOFAS score improved from a pre-operative value of 66.69 ± 7.19 points to a value of 93.69 points ± 10.04 at the last follow-up (
P
< 0.05). The VAS and the FFI (Disability and Pain) scores were also improved significantly in both groups at the final follow-up evaluation (
P
< 0.001). Comparing the final follow-up post-operative clinical scores between the two groups, there was no difference in the AOFAS, VAS or the FFI scores between the two groups. No major complications were recorded, except for one Achilles tendon tear after open calcaneoplasty. The satisfaction rate was similar for both techniques.
Conclusions
Both techniques provided good clinical outcomes with a low rate of complications.