01.12.2015 | Technical advance | Ausgabe 1/2015 Open Access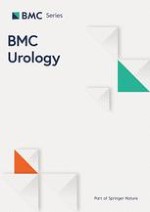 Transurethral cystolitholapaxy with the AH-1 stone removal system for the treatment of bladder stones of variable size
Zeitschrift:
Autoren:

Aihua Li, Chengdong Ji, Hui Wang, Genqiang Lang, Honghai Lu, Sikuan Liu, Weiwu Li, Binghui Zhang, Wei Fang
Wichtige Hinweise
Competing interests
The authors declare that they have no competing interests.
Authors' contributions
AL and HW contributed equally to this paper. AL and HW performed data collection and analysis, and drafted the manuscript. AL, CJ, HW, GL, HL, SL, WL, BZ and WF performed the operations. All authors have read and approved the final manuscript.
Abstract
Background
The treatment of large volume bladder stones by current equipments continues to be a management problem in both developing and developed countries. AH-1 Stone Removal System (SRS) invented by us is primarily used to crush and retrieve bladder stones. This study evaluated the safety and efficiency of transurethral cystolitholapaxy with SRS for the treatment of bladder stones of variable size.
Methods
SRS, which was invented by Aihua Li in 2007, composed by endoscope, continuous-flow component, a jaw for stone handling and retrieving, lithotripsy tube, handle, inner sheath and outer sheath. 112 patients with bladder stones were performed by transurethral cystolitholapaxy with SRS since 2008. We compare the surgical outcome to bladder stones of variable size, and evaluate the surgical efficiency and safety.
Results
Characteristics of patients and stone removal time in variable size were evaluated. To patients with single stone, stone size was 1.35 ± 0.37 cm and the operating time was 5.50 ± 3.92 min in Group A. Stone size was 2.38 ± 0.32 cm and the operating time was 11.90 ± 9.91 min in Group B. Stone size was 3.30 ± 0.29 cm and the operating time was 21.92 ± 9.44 min in Group C. Stone size was 4.69 ± 0.86 cm and the operating time was 49.29 ± 30.47 min in Group D. The difference was statistically significant between the four groups. Among them, 74 (66.07%) patients accompanied with benign prostatic hyperplasia (BPH) were treated by transurethral resection of the prostate (TURP) simultaneously. Compared between the four groups, the difference of the TURP time was not statistically significant, P >0.05. No significant complication was found in the surgical procedure.
Conclusions
Transurethral cystolitholapaxy with SRS appears to be increased rapidity of the procedure with decreased morbidity. It is a safe and efficient surgical management to bladder stones. This endoscopic surgery best fits the ethics principle of no injury; meanwhile, the accompanied BPH could be effectively treated by TURP simultaneously.