11.11.2017 | Original Paper | Ausgabe 3/2018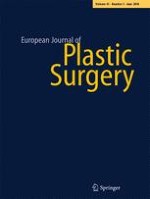 Transversalis fascia scoring: a new adjunct to anterior component separation technique
Zeitschrift:
Autoren:

Inzhili K. Ismail, Carol E. Soteropulos, Alice C. Huang, Kristen M. Rezak, Ashit Patel
Abstract
Background
Abdominal wall hernia is a significant cause for reoperation following laparotomy. Anterior component separation (ACS) is a widely used technique for closure of large abdominal wall defects. We propose that adding scoring of transversalis fascia to ACS can provide additional midline advancement of the anterior rectus sheath.
Methods
Open ACS was performed in eight cadavers. The medial advancement of the anterior rectus sheath was recorded at three points bilaterally during application of constant load, and again following scoring of the transversalis fascia. This technique was then used on two patients with recurrent, complex ventral hernias which could not be closed with ACS alone.
Results
In the cadaver model, transversalis fascia scoring provides additional 34.01, 27.12, and 25.05% advancement at each point compared to ACS. Results were significant. In both patients, primary fascial closure of defects over 20 cm width at midline was achieved.
Conclusions
Adding transversalis fascia scoring in a controlled standard fashion to ACS may help surgeons achieve closure of abdominal wall defects when ACS alone is not sufficient.
Level of Evidence: Level V, therapeutic study.