26.11.2018 | Urology - Original Paper | Ausgabe 2/2019 Open Access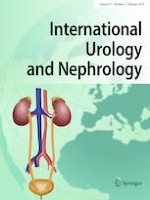 Transvesical laparoendosopic single-site surgery as a valuable option to remove eroded materials from the bladder: single-center experience and a review of the literature
Zeitschrift:
Autoren:

Maciej Przudzik, Michał Borowik, Mirosław Łesiów, Roman Łesiów
Abstract
Introduction
Currently, polypropylene materials are used widely for the treatment of various urogynecologic disorders. This type of treatment can be complicated, although rarely, with erosions of the polypropylene implants into the bladder or the urethra. There is no established treatment for such complications. We present our experience in transvesical laparoendoscopic single-site surgery (T-LESS) removal of eroded materials, and a review of the literature in this field.
Materials and methods
From June 2015 to May 2017 eight females, with an average age of 66.5 years (range 55–80 years), were referred to our Center because of the erosion of polypropylene material in the bladder, after anti-incontinence or pelvic organ prolapse treatment. Patients were diagnosed with ultrasound and cystoscopy. Seven bladder erosions and one bladder and urethral penetration were found. Patients were qualified for removal with the T-LESS approach. The Tri-Port + disposable set and standard laparoscopic instruments were used. The eroded materials were dissected and cut away, and the defects of the bladder wall were closed with barbed sutures. The peri-operative efficacy and safety of the method were assessed, and the patients were scheduled for follow-up visits at 6 weeks and every 3 months thereafter. The patients were offered a cystoscopic exam during the 7–10 month period after the operation.
Results
The procedures were completed successfully in all patients. No blood loss or complications were observed. The mean operative time was 54.5 min, and the average hospital stay was 30 h. During a follow-up at 11 months, all patients were cured, except for one who presented urethral erosion.
Conclusions
The T-LESS technique for removal of eroded meshes is a safe and effective method. The precise access to the bladder minimizes morbidity, and suturing the bladder wall defects may reduce the risk of recurrence.