01.12.2015 | Research article | Ausgabe 1/2015 Open Access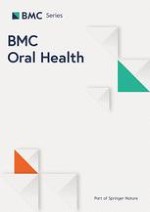 Traumatic dental injuries in a university hospital: a four-year retrospective study
Zeitschrift:
Autoren:

Benjamin Mahmoodi, Roman Rahimi-Nedjat, Jens Weusmann, Adriano Azaripour, Christian Walter, Brita Willershausen
Wichtige Hinweise
Competing interests
The authors declare that they have no competing interests.
Authors' contributions
BM carried out the study, was involved in the design and analysis and contributed to the write up the paper. RR was involved in the statistical analysis and the write up of the paper. CW participated in the design of the study and was involved in the statistical analysis. JW was involved in the design and contributed to the write up the paper. AA was involved in the design and statistical analysis. BW participated in the design and coordination of the study. All authors read and approved the final manuscript.
Abstract
Background
Traumatic dental injuries present complex injuries of the dentoalveolar system. Aim of this study was to investigate the frequency and patterns of traumatic dental injuries in a University dental emergency service over four years.
Methods
A retrospective investigation on all dental trauma patients presenting at the dental emergency service of the University Medical Center Mainz, Germany between 01/2010 and 12/2013 was conducted. Demographic data, the cause and type of trauma and the initial therapy were analyzed.
Results
Out of 16,301 patients, 1,305 patients (8 %; average age 14.7 years ±15.7; 60.1 % male, 39.9 % female) came due to trauma. 63.9 % of the traumas occurred on weekends. The most frequent reason for injuries was falls (54.6 %). No correlation could be found between the cause and the kind of trauma. In 48.6 % of the cases only one tooth was involved, in 33.5 % two. The permanent dentition was traumatized in 56.6 % of cases, the deciduous teeth in 41.1 %. The most frequently affected tooth was the central upper incisor (61.0 %). Hard-tissue injuries were significantly more frequent in the permanent dentition, while periodontal injuries were seen significantly more often in the deciduous dentition.
Conclusion
Eight percent of all patients seeking help at the dental emergency service presented with trauma, meaning that dental traumatology is one of the major topics in emergencies. To improve the quality of care, further public education, expert knowledge among dental professionals and a well-structured emergency service are necessary.