01.12.2012 | Review | Ausgabe 1/2012 Open Access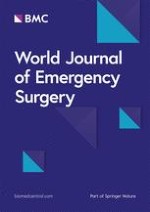 Traumatic subclavian arterial rupture: a case report and review of literature
Zeitschrift:
Autoren:

Marco Assenza, Leonardo Centonze, Lorenzo Valesini, Gabriele Campana, Mario Corona, Claudio Modini
Wichtige Hinweise
Electronic supplementary material
The online version of this article (doi:
10.​1186/​1749-7922-7-18
) contains supplementary material, which is available to authorized users.
Competing interests
The authors declare that they have no competing interests.
Authors' contributions
MA coordinated the whole team work. LC, GC, LV cared about bibliographical research, images' collection and first draft writing. MC reviewed the radiological aspects of the article. CM carried out the final internal review. All authors read and approved the final manuscript.
Introduction
Traumatic subclavian arterial rupture represents an uncommon complication of blunt chest trauma. The subclavian artery is protected by subclavius muscle, the clavicle, the first rib, and the deep cervical fascia, as well as the costo-coracoid ligament, a clavi-coraco-axillary fascia portion. Clavicular Fractures were cited as the cause of 50% of traumatic subclavian artery injuries [
1
]. Arterial rupture usually causes life-threatening haemorragies, and must be carefully ruled out by physical examination as well as diagnostic imaging. Physical examination of the upper limb must focus on skin color, temperature, sensation, hand motility well as radial pulse [
2
]. Contrast-CT represents a key diagnostic exam, while arteriography offers both a diagnostic a therapeutic approach.
Open surgery represents the classical management of subclavian rupture, but it is associated with high morbidity mostly because the need of extensive incisions, which require lengthy healing and rehabilitation.
In recent years endovascular stent grafting, thank to technical evolution and growing operators' experience, has become an attractive therapeutic approach to such kind of injuries, provided with less invasiveness and morbidity [
3
].
We report a case of traumatic subclavian arterial rupture after blunt chest trauma and clavicular fracture due to a 4 meters fall, treated by endovascular stent grafting.
Case report
A previously healthy 70-year old man had a fall from a 4 meters high scaffold: he reported a blunt chest trauma and a cranial trauma with temporary loss of consciousness. Immediately after trauma he was brought to our hospital.
On admittance to our hospital the patient was conscious and well oriented, and physical examination revealed patient airways, no
cornage
nor
triage
were present, he was breathing normally, not complaining about dyspnoea, his respiratory rate was 20 per minute, the trachea was lying on the midline, there were no jugular veins turgor, vescicular murmur was bilaterally present and symmetric; a chest plain radiography was performed, there were no sign of pneumothorax but a left midishaft clavicular fracture was highlighted (Figure
1
). The patient was hemodynamically stable, the skin was warm and dry, blood pressure was 120/90 mmHg with a 100 bpm heart rate, and he was resuscitated with 2000 ml of isotonic physiologic solution. He underwent a
Focused Assessment with Sonography for Trauma
(ECO-FAST), which showed no sign of active abdominal bleeding. There were no evidence of any neurological signs, his Glasgow Coma Scale (GCS) was 15, pupils were bilaterally isochoric, isocyclic, and reactive to light, and he was able to move the four limbs. The patient presented left parietal and periorbital ecchymotic excoriated contusion, as well as a vast hematoma with multiple excoriation in the left clavicular region and the left upper limb. The left hemithorax presented with multiple ecchymosis and was tender to palpation, while the right one was normal. There was no subcutaneous crepitation. The abdomen was flat, with physiologic respiration-associated mobility, there was no rebound tenderness, and peristalsis was present. The pelvis was stable. Palpable distal pulses were present in all extremities, and motor function of the lower limbs was preserved. Radial pulse of the left arm was slightly reduced and the limb presented with no evidence of neurological deficits (sensation, finger motility).
×
Urinary catheterization was performed, with an outcome of 100 ml of limpid urine. Laboratory tests showed an increase in myocytolysis enzymes with no evidence of cardiac failure (CPK = 569 UI/l; MB = 645.3 ng/ml; LDH = 338 UI/l). The haemoglobin value was initially 10.6 g/dl.
The patient underwent to a total body CT scan. The CT showed left parietal bone fracture with no signs of intracranial haemorrhage, confirmed the left clavicualr fracture viewed at RX, and revealed active bleeding from left subclavian artery; a L1 vertebral soma fracture determining medulla compression was also detected, while the abdominal scans did not show any sign of visceral trauma (Figure
2
).
×
Because of the subclavian active bleeding the patient was sent to interventional radiology operatory theatre.
The right femoral artery was accessed using a standard Seldinger technique and a standard short 5F sheath was placed; a guidewire and a selective catheter were then used to cannulate the target vessel, and the left subclavian artery selective arteriography showed active bleeding from its 3
rd
segment, 3 cm after the vertebral artery's origin, due to a subtotal lesion of the arterial wall (Figure
3
). A 8 × 50 mm Viabahn stent graft was advanced in anterograde fashion, then it was deployed under fluoroscopic visualization. An angioplasty balloon of appropriate size is used to iron out the proximal and distal edges of the stent and bring it up to profile (Figure
4
). Next angiograms showed no active bleeding (Figure
5
).
×
×
×
After surgical procedure, haemoglobin was checked again, and its value was 8.5 g/dl.
During the next days the patient underwent 2 blood transfusions, and its haemoglobin values returned between normal ranges (10.8 g/dl on the 6th day after trauma).
The L1 vertebral soma fracture was treated on the 9 th day after trauma.
The patient was discharged on the 15 th day after trauma.
Discussion and review of literature
CT represents a key diagnostic exam, while selective arteriography offers both diagnostic accuracy and an operative approach.
Once identified, these injuries have historically been managed with a conventional surgical approach, associated with its own morbidity. Open repair is technically challenging and associated with significant morbidity and mortality for a variety of reasons. Exposure to obtain proximal control requires either a median sternotomy for the innominate and proximal right subclavian artery or a high anterolateral thoracotomy with potential clavicular resection for the proximal left subclavian artery. Such extensive incisions require lengthy healing and rehabilitation and carry significant morbidities.
Our analysis points out how the technical progresses and growing experience of vascular surgeons has improved the feasibility of endovascular treatment, creating a valid alternative to challenging 'classic' surgical approaches.
Conclusions
Our analysis reveals a continuous growth in the application of endovascular stent grafting vs. open repair for subclavian arterial injuries, thanks to the growing experience of endovascular surgeons coupled to rapid technologies' development. Furthermore, the indications for endovascular stent grafting were stretched: in 2005, hemodynamical instability status was still pointed out as a contraindication to endovascular approach, as well as complete vessel transaction [
21
]; 6 years later, the series by Shalhub and coll. [
5
] extended the indication to hemodynamically unstable patients as well as to patients reporting complete vessel transaction thanks to the application of a new endovascular technique based on the use of a combined brachial and femoral arterial access to create a brachial-femoral wire and repair of transected mid-to-distal subclavian or axillary artery [
9
]. In our opinion, according to the observation by Danetz [
21
]and Shalhub [
5
], the creation of an OR environment with full endovascular capability, where open and endovascular techniques can be used as well as other necessary procedures such as exploratory laparotomy and orthopedic fixation, without the need to transport the unstable patient, is crucial for a fast and multidisciplinary management of trauma patients.
Consent
Written informed consent was obtained from the patient for publication of this case report and any accompanying images. A copy of the written consent is available for review by the editor-in-chief of this journal.
This article is published under license to BioMed Central Ltd. This is an Open Access article distributed under the terms of the Creative Commons Attribution License (
http://​creativecommons.​org/​licenses/​by/​2.​0
), which permits unrestricted use, distribution, and reproduction in any medium, provided the original work is properly cited.
Authors' original submitted files for images
Below are the links to the authors' original submitted files for images.
Competing interests
The authors declare that they have no competing interests.
Authors' contributions
MA coordinated the whole team work. LC, GC, LV cared about bibliographical research, images' collection and first draft writing. MC reviewed the radiological aspects of the article. CM carried out the final internal review. All authors read and approved the final manuscript.