01.12.2019 | Review | Ausgabe 1/2019 Open Access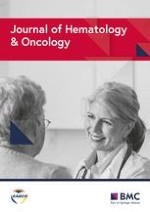 Treatment and monitoring of Philadelphia chromosome-positive leukemia patients: recent advances and remaining challenges
Zeitschrift:
Autoren:

Simona Soverini, Renato Bassan, Thomas Lion
Wichtige Hinweise
Simona Soverini, Renato Bassan, and Thomas Lion contributed equally to this paper.
Background
Chronic myeloid leukemia (CML) and a subset of acute lymphoblastic leukemias (ALL) are collectively termed "Philadelphia chromosome-positive (Ph+)" leukemias because they share a common pathogenetic lesion, the Philadelphia chromosome, resulting from the t(9;22)(q34;q11) translocation [
1
,
2
]. On the Ph chromosome, a BCR-ABL1 fusion gene is formed that encodes a tyrosine kinase whose deregulated activity may be therapeutically targeted (reviewed in [
3
]). Since 2003, the incorporation of tyrosine kinase inhibitors (TKIs) in the front-line treatment protocols has significantly improved the prognosis of both diseases and has shifted treatment endpoints from hematologic and cytogenetic responses to molecular responses (MR). CML and Ph+ ALL are otherwise profoundly different in terms of disease biology and clinical course. Approximately 95% of CML patients present in the chronic phase (CP) that exhibits a relatively indolent course and is generally very well controlled by TKIs. CP CML patients who achieve an optimal response have a life expectancy comparable to that of the general population [
4
], and the possibility to discontinue TKI treatment ("treatment-free remission," TFR) has recently been explored in several clinical trials [
5
–
27
]. Patients who present in (2–5%) or progress to accelerated phase (AP) or blast crisis (BC) (2–7%) have poorer outcomes [
28
,
29
]. Patients in AP and BC display a high degree of genetic instability, leading to the accumulation of TKI-resistant point mutations in the BCR-ABL1 kinase domain (KD) [
3
]. Moreover, additional genetic and cytogenetic abnormalities reducing the addiction of Ph+ cells to BCR-ABL1 are observed, thereby limiting TKI efficacy [
3
]. Five different TKIs (imatinib, dasatinib, nilotinib, bosutinib, ponatinib) are approved for CML patients, permitting to tailor therapy at diagnosis and dynamically adapt thereafter on the basis of disease phase, individual risk assessment, treatment endpoints, comorbidities, response levels, and, in case of treatment failure, presence of TKI-resistant mutations in the BCR-ABL1 KD [
30
–
32
]. In Ph+ ALL, the introduction of TKIs has enabled the achievement of very high rates of complete hematologic response (CHR) and has significantly improved disease-free survival (DFS) and overall survival (OS) [
33
]. Nevertheless, several open issues remain to be addressed on the path to treatment optimization, and development of resistance is still a major concern. The degree of genetic instability in Ph+ ALL resembles that of BC CML and, in both instances, fosters rapid acquisition of BCR-ABL1 KD mutations that may lead to TKI-resistant relapse.
Here, we discuss why MR monitoring and BCR-ABL1 KD mutation screening have become essential for the successful management of Ph+ leukemia patients and how molecular tools are evolving. We also review the therapeutic landscape of Ph+ ALL and the challenges that still need to be addressed in order to improve patient outcomes.
Main text
Conclusions
Therapeutic advances and technological evolution have significantly improved the way we treat CML and Ph+ ALL patients, monitor response, and counteract resistance. Personalized approaches based on risk, treatment endpoints, and BCR-ABL1 mutation status are becoming reality. Nevertheless, there is still much to be done. In CML, clinical investigation is now focusing on how to best identify, based on the entity of BCR-ABL1 transcript reduction, patients who would really benefit from an early switch, how to increase TFR rates, and how to best select TFR candidates. In Ph+ ALL, clinical studies are investigating how to optimize the use of the currently available treatment options (TKIs, monoclonal antibodies, chemotherapy, transplantation) in an attempt to minimize toxicity and treatment-related mortality while maximizing (molecular) response rates. If the past decade has witnessed the TKI revolution, the next will welcome a fine-tuning of TKI use, with the definition of rational decision algorithms taking into account biological and clinical prognostic/predictive factors, both at diagnosis and dynamically during the course of treatment.
Acknowledgements
None
Availability of data and materials
Not applicable
Ethics approval and consent to participate
Not applicable
Consent for publication
Not applicable
Competing interests
SS has been a consultant for Incyte Biosciences, Novartis, and Bristol-Myers Squibb. TL has been a consultant for and received honoraria from Incyte, Angelini, Ariad, Pfizer, Novartis, Amgen, and Bristol-Myers Squibb as well as research support from Novartis and Incyte. RB has been a consultant for and received honoraria from Incyte, Ariad, Pfizer, Amgen, and Shire.
Publisher's Note
Springer Nature remains neutral with regard to jurisdictional claims in published maps and institutional affiliations.
Open Access
This article is distributed under the terms of the Creative Commons Attribution 4.0 International License (
http://​creativecommons.​org/​licenses/​by/​4.​0/​
), which permits unrestricted use, distribution, and reproduction in any medium, provided you give appropriate credit to the original author(s) and the source, provide a link to the Creative Commons license, and indicate if changes were made. The Creative Commons Public Domain Dedication waiver (
http://​creativecommons.​org/​publicdomain/​zero/​1.​0/​
) applies to the data made available in this article, unless otherwise stated.