01.12.2015 | Research article | Ausgabe 1/2015 Open Access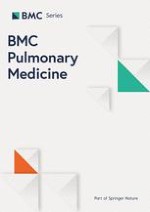 Treatment of acute exacerbation of idiopathic pulmonary fibrosis with direct hemoperfusion using a polymyxin B-immobilized fiber column improves survival
Zeitschrift:
Autoren:

Noriyuki Enomoto, Masashi Mikamo, Yoshiyuki Oyama, Masato Kono, Dai Hashimoto, Tomoyuki Fujisawa, Naoki Inui, Yutaro Nakamura, Hideo Yasuda, Akihiko Kato, Soichiro Mimuro, Matsuyuki Doi, Shigehito Sato, Takafumi Suda
Wichtige Hinweise
Electronic supplementary material
The online version of this article (doi:
10.​1186/​s12890-015-0004-4
) contains supplementary material, which is available to authorized users.
Competing interests
The authors declare that they have no competing interests.
Authors' contributions
Conception and design: NE. Analysis and interpretation: NE, MM, YO, MK, DH, TF, NI, YN, HS, AK, SM, MD, SS, TS. Drafting the manuscript for important intellectual content: NE, YN, TS. All authors read and approved the final manuscript.
Abstract
Background
Acute exacerbation of idiopathic pulmonary fibrosis (AE-IPF) has an extremely poor prognosis and there is currently no effective treatment for this condition. Direct hemoperfusion with a polymyxin B-immobilized fiber column (PMX-DHP) improves oxygenation, but it is unclear whether treatment of AE-IPF with PMX-DHP affects survival. This study elucidated the effectiveness and safety of PMX-DHP for the treatment of AE-IPF.
Methods
This study included 31 patients with 41 episodes of AE-IPF. All patients received steroids. Of 31, 14 patients (20 episodes) were treated with PMX-DHP. The laboratory and physiological test results after the start of therapy and survival were retrospectively compared between patients treated with and without PMX-DHP.
Results
Patients treated with PMX-DHP had a significantly greater change in PaO2/FiO2 ratio (mean ± SEM, 58.2 ± 22.5 vs. 0.7 ± 13.3, p = 0.034) and a smaller change in white blood cell count (−630 ± 959 /μL vs. 4500 ± 1190 /μL, p = 0.002) after 2 days of treatment than patients treated without PMX-DHP. The 12-month survival rate was significantly higher in patients treated with PMX-DHP (48.2% vs. 5.9%, p = 0.041). PMX-DHP was effective in patients with more severe underlying disease (GAP stages II or III; 12-month survival rate 57.1% with PMX-DHP vs. 0% without PMX-DHP, p = 0.021). Treatment with PMX-DHP was an independent predictor of better prognosis (hazard ratio 0.345, p = 0.037). Mild pulmonary thromboembolism occurred in one patient treated with PMX-DHP.
Conclusions
Treatment of AE-IPF with PMX-DHP is tolerable and improves 12-month survival.