01.12.2018 | Case report | Ausgabe 1/2018 Open Access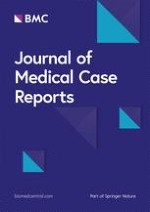 Treatment of giant cervico-mediastinal lymphatic malformations: a case series
Zeitschrift:
Autoren:

So-Hyun Nam, Kyoung-Ah Kwon
Abstract
Background
Lymphatic malformations are histologically benign vascular structures that vary in anatomic lesion and size. Extensive head and neck lymphatic malformations may be life-threatening. In the present study, we described three difficult-to-treat infants with giant cervico-mediastinal lymphatic malformations accompanied by severe respiratory distress.
Case presentations
Case 1. A Korean girl born at a gestational age of 37 weeks and weighing 2920 g had a large cervical mass compressing the trachea. Despite initial OK-432 sclerotherapy, the mass extended over the contralateral retropharyngeal space and mediastinum. Although the cervical mass was completely excised, our patient was not weaned off the ventilator. The mediastinal lymphatic malformation was excised, and our patient underwent continued intensive respiratory care with nasal continuous positive airway pressure for 6 months. She is now 5 years old and doing well without any sequelae. Case 2. A 5-month-old Korean boy showed respiratory difficulty with feeding intolerance after partial excision of a neck lymphatic malformation. We found that the remnant cervical mass had grown into the retropharyngeal space and mediastinum. After a second operation for the cervico-mediastinal mass, he experienced severe respiratory difficulty requiring ventilator care for 6 months. However, he died from central-line fungal sepsis. Case 3. A 30-day-old Korean girl was referred for remnant lymphatic malformation after partial excision. The cervical mass extended to the mediastinum and occupied half of the thoracic cavity, encasing all of the major vessels. After surgical excision, she underwent ventilator care and pleurodesis three times with doxycycline for recurrent pleural effusion. At the age of 26 months, she was weaned off supplementary oxygen and she showed normal development without any sequelae.
Conclusions
Despite difficulties in the treatment process, combinations of delicate surgical treatment, appropriate adjuvant sclerotherapy, and intensive respiratory supportive care could result in a good outcome. However, complications due to long-term intensive care could still be considered.