01.11.2013 | General Gynecology | Ausgabe 5/2013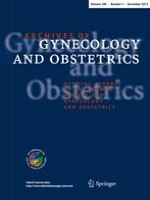 Treatment of heavy menstrual bleeding of endometrial origin: randomized controlled trial of medroxyprogesterone acetate and tranexamic acid
Zeitschrift:
Autoren:

Azita Goshtasebi, Somayeh Moukhah, Samira Behboudi Gandevani
Wichtige Hinweise
This trial was registered in the Iranian Registry of Clinical Trials at
www.​irct.​ir
(IRCT 138802131641N3).
Abstract
Purpose
This study aimed at comparing the efficacy of medroxyprogesterone acetate (MPA) and tranexamic acid (TA) for treating heavy menstrual bleeding of endometrial origin (HMB).
Methods
A randomized controlled trial was carried out in three gynecology clinics in Tehran, Iran. Ninety women with the HMB of endometrial origin were randomized into the study: 44 patients took MPA for 21 days from day 5 and 46 patients took tranexamic acid for 5 days from day 1 of menses for three consecutive menstrual cycles. Blood loss was measured using the pictorial blood loss assessment chart (PBAC); hematological assessments were made before intervention and after treatment. SF-36 and HMB Questionnaire (MQ) were given to assess quality of life. Statistical analysis was performed using
t
test, Paired
t
test, χ
2
, Mann–Whitney, Wilcoxon signed-rank test, and repeated measure analysis.
Results
PBLC mean score, duration of bleeding and Hb values as well as quality of life were significantly improved in both groups (
P
< 0.05). But there was no significant deference between groups. More drug complication and less satisfaction were reported by MPA group (
P
= 0.003 and
P
= 0.002, respectively).
Conclusions
Long-term use of MPA is as effective as Tranexamic acid in treating HMB and increasing quality of life. However, bleeding irregularity side effects of MPA might limit its use.