01.12.2012 | Research | Ausgabe 1/2012 Open Access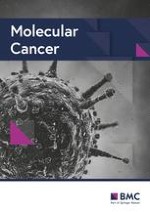 Treatment of human pre-B acute lymphoblastic leukemia with the Aurora kinase inhibitor PHA-739358 (Danusertib)
Zeitschrift:
Autoren:

Fei Fei, Min Lim, Sabine Schmidhuber, Jürgen Moll, John Groffen, Nora Heisterkamp
Wichtige Hinweise
Electronic supplementary material
The online version of this article (doi:
10.​1186/​1476-4598-11-42
) contains supplementary material, which is available to authorized users.
Competing interests
JM is employed by Nerviano Medical Sciences. The other authors declare no conflict of interest.
Author's contributions
FF designed and performed research, collected, analyzed and interpreted data and wrote the manuscript. ML performed research and collected data; SS helped with design of experiments and performed research; JM interpreted data; JG interpreted data; NH designed experiments, analyzed and interpreted data and wrote the manuscript. All authors read and approved the final manuscript.
Abstract
Background
Treatment of Philadelphia chromosome-positive acute lymphoblastic leukemias (Ph-positive ALL) with clinically approved inhibitors of the Bcr/Abl tyrosine kinase frequently results in the emergence of a leukemic clone carrying the T315I mutation in Bcr/Abl, which confers resistance to these drugs. PHA-739358, an Aurora kinase inhibitor, was reported to inhibit the Bcr/Abl T315I mutant in CML cells but no preclinical studies have examined this in detail in human ALL.
Results
We compared the sensitivity of human Bcr/Abl T315I, Bcr/Abl wild type and non-Bcr/Abl ALL cells to this drug. PHA-739358 inhibited proliferation and induced apoptosis independently of Bcr/Abl, the T315I mutation, or presence of the tumor suppressor p53, but the degree of effectiveness varied between different ALL samples. Since short-term treatment with a single dose of drug only transiently inhibited proliferation, we tested combination treatments of PHA-739358 with the farnesyltransferase inhibitor Lonafarnib, with vincristine and with dasatinib. All combinations reduced viability and cell numbers compared to treatment with a single drug. Clonogenic assays showed that 25 nM PHA-739358 significantly reduced the colony growth potential of Ph-positive ALL cells, and combined treatment with a second drug abrogated colony growth in this assay. PHA-739358 further effectively blocked Bcr/Abl tyrosine kinase activity and Aurora kinase B
in vivo,
and mice transplanted with human Bcr/Abl T315I ALL cells treated with a 3x 7-day cycle of PHA-739358 as mono-treatment had significantly longer survival.
Conclusions
PHA-739358 represents an alternative drug for the treatment of both Ph-positive and negative ALL, although combined treatment with a second drug may be needed to eradicate the leukemic cells.