18.07.2016 | Leitthema | Ausgabe 7/2016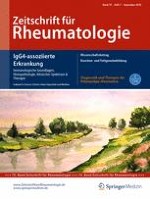 Treatment of IgG4-related disease
Current and future approaches
Zeitschrift:
Autoren:

D.O., Senior Fellow C. A. Perugino, M.D., M.P.H., Professor of Medicine J. H. Stone
Wichtige Hinweise
Redaktion
P. Lamprecht, Lübeck
F. Moosig, Neumünster
U. Müller-Ladner, Bad Nauheim
U. Lange, Bad Nauheim
Abstract
IgG4-related disease (IgG4-RD) is capable of causing great morbidity and even mortality if the condition remains undiagnosed or poorly treated, yet is typically a treatment-responsive disorder. Glucocorticoids have not been studied rigorously and practices with regard to dosing and duration of treatment remain largely empiric. In addition, IgG4-RD patients are often particularly susceptible to and intolerant of the deleterious effects of glucocorticoid therapy. B cell depletion with anti-CD20 monoclonal antibodies appears to be a rapid, effective means of obtaining disease control and limiting patients' glucocorticoid exposure, but this option is frequently not available. Other therapies targeting the B cell lineage may also be efficacious, and one is under study. The means by which depletion or inhibition of B cells and their progeny ameliorate IgG4-RD is coming into focus now through careful mechanistic studies of samples from treated patients. The mechanistic understanding of IgG4-RD will bring an array of specific targets for therapeutic intervention. Plasmablast-directed therapy with a CD19 monoclonal antibody is currently in clinical trials. CD4 + cytotoxic T lymphocytes and fibrosis, both observed nearly universally in the tissue of IgG4-RD patients, present two unexploited vulnerabilities in controlling and even reversing the effects of the disease. Further development of such therapies is a major goal of the next few years.