09.01.2019 | Case Report | Ausgabe 1/2019 Open Access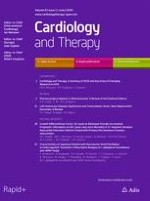 Treatment of Orthostatic Hypotension Due to Autonomic Dysfunction (Neurogenic Orthostatic Hypotension) in a Patient with Cardiovascular Disease and Parkinson's Disease
Zeitschrift:
Autor:

Peter A. McCullough
Wichtige Hinweise
Enhanced digital features
Abstract
Introduction
The prevalence of neurogenic orthostatic hypotension (nOH) increases with age and is associated with autonomic failure in neurodegenerative diseases (e.g., Parkinson's disease). Symptoms can interfere with daily activities that require standing or walking and can increase risk of falls and related morbidity. Many patients with nOH have or develop cardiovascular comorbidities that can predate nOH symptoms or may arise as a result of autonomic dysregulation. In this report, we describe a complicated case of a patient with cardiovascular disease and Parkinson's disease who presented with orthostatic symptoms.
Case Report
A 78-year-old man with a history of coronary heart disease, class III heart failure, cardiac cachexia, long-standing persistent atrial fibrillation (AF), Hodgkin's lymphoma, and Parkinson's disease presented with weakness, dizziness, presyncope, fatigue, and inability to stand. Orthostatic blood pressure (BP) measurements revealed a seated BP of 120/70 mmHg that decreased to 60/40 mmHg upon standing, accompanied by a slight increase in heart rate from 70 to 74 beats per minute. He was diagnosed with nOH and prescribed droxidopa (titrated to 600 mg three times daily). Treatment with droxidopa improved the patient's ability to stand and his orthostatic BP.
Conclusion
Droxidopa is approved by the US Food and Drug Administration to treat symptomatic nOH and is not contraindicated in patients with cardiovascular conditions. In this case, treatment with droxidopa improved the patient's orthostatic tolerance and, importantly, did not change the patient's rate-controlled AF or his symptoms of class IV heart failure. Because symptoms associated with nOH can be detrimental to patient safety and mobility, it is critical to screen for and treat patients with nOH, even when there are cardiovascular comorbidities.
Funding
Editorial support and article processing charges were funded by Lundbeck.
Plain Language Summary
Plain language summary available for this article.