15.10.2015 | Original Paper | Ausgabe 3/2016 Open Access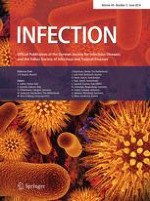 Treatment of
Pneumocystis

pneumonia with intermediate-dose and step-down to low-dose trimethoprim–sulfamethoxazole: lessons from an observational cohort study
Zeitschrift:
Autoren:

Dina Creemers-Schild, Frank P. Kroon, Ed. J. Kuijper, Mark G. J. de Boer
Abstract
Background
The recommended treatment of
Pneumocystis jirovecii
pneumonia (PCP) is high-dose trimethoprim–sulfamethoxazole (TMP–SMX) in an equivalent of TMP 15–20 mg/kg/day and SMX 75–100 mg/kg/day for 2 or 3 weeks. High rates of adverse events are reported with this dose, which raises the question if lower doses are possible.
Methods
All adult patients diagnosed with PCP in various immune dysfunctions and treated with TMP–SMX between January 1, 2003 and July 1, 2013 in a tertiary university hospital were included. Per institutional protocol, patients initiated treatment on intermediate-dose TMP–SMX (TMP 10–15 mg/kg/day) and could be stepped down to low-dose TMP–SMX (TMP 4–6 mg/kg/day) during treatment. Clinical variables at presentation, relapse rate and mortality rates were compared between intermediate- and step-down treatment groups by uni- and multivariate analyses.
Results
A total of 104 patients were included. Twenty-four patients (23 %) were switched to low-dose TMP–SMX after a median of 4.5 days (IQR 2.8–7.0 days). One relapse (4 %) occurred in the step-down group versus none in the intermediate-dose group. The overall 30-day mortality was 13 %. There was 1 death in the step-down group (4 %) compared to 13 deaths (16 %) in the intermediate-dose group.
Conclusions
We observed high cure rates of PCP by treatment with intermediate-dose TMP–SMX. In addition, a step-down strategy to low-dose TMP–SMX during treatment in selected patients appears to be safe and does not compromise the outcome of treatment.