14.07.2020 | Oncology | Ausgabe 11/2020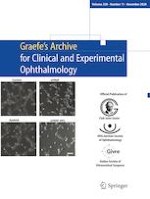 Treatment of radiation-induced maculopathy with fluocinolone acetonide
Autoren:

Lena Zimmermann, Christiane Kneifel, Luise Grajewski, Ilja F. Ciernik, Lothar Krause
Wichtige Hinweise
Publisher's note
Springer Nature remains neutral with regard to jurisdictional claims in published maps and institutional affiliations.
Abstract
Purpose
Chronic macular oedema is a well-known presentation of radiation-induced maculopathy (RM) following external beam photon therapy, plaque radiotherapy and proton beam radiotherapy for choroidal tumours. Current therapies vary in respect of efficacy and clinical benefit. The potential of fluocinolone acetonide (FAc) slow-release implants is unknown. We hypothesised that local continuous delivery of low-dose corticosteroids might improve symptoms of RM.
Methods
Five—two male and three female—patients from 37 to 68 years presented with RM following 106Ru-plaque brachytherapy or stereotactic radiation therapy (STx) with photons using a hypofractionated schedule of 5 × 10 Gy. All were treated with triamcinolone injections in first line and proofed to be refractory to steroids. In addition, two patients had received Ozurdex® implants as a second-line treatment, though without any clinical benefit. FAc slow-release implants were injected, and patients were followed up to monitor clinical improvement.
Results
All patients responded to therapy by means of a decrease in macular oedema. In four of five (80%) patients, visual acuity improved, and one patient showed stable visual acuity. No toxic effects or complications were observed.
Conclusion
Slow-release implants of FAc are a promising therapeutic potent steroid treatment option to benefit anatomical structures of the fovea and visual function. Slow-release implants with FAc reduce the frequency of intravitreal injections and the therapeutic burden.