06.05.2020 | Case Report | Ausgabe 12/2020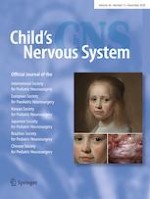 Treatment options and long-term outcomes in pediatric spinal cord vascular malformations: a case report and review of the literature
Zeitschrift:
Autoren:

Helen J. Zhang, Nicole Silva, Elena Solli, Amanda C. Ayala, Luke Tomycz, Catherine Christie, Catherine A. Mazzola
Wichtige Hinweise
Publisher's note
Springer Nature remains neutral with regard to jurisdictional claims in published maps and institutional affiliations.
Abstract
A 16-month-old female was admitted for prolonged fever, gait ataxia, and neurogenic bowel and bladder. Neurological exam was significant for decreased sensory and motor functions in bilateral lower extremities. Initial MRI showed a thoracic spine hematoma and diagnostic angiogram revealed a large AVM and aneurysm. The patient underwent surgical resection of the hematoma and AVM, as well as clipping and later endovascular coiling of the aneurysm. Due to significant hemorrhage perioperatively, she developed spastic paraplegia improved by baclofen and onabotulinumtoxin A injections. The aims of this paper were to conduct a systematic review of the literature on pediatric spinal cord vascular malformations and analyze trends in treatment options and long-term neurological outcomes. PubMed searches were conducted using keywords "pediatric spinal vascular malformation" and "pediatric spinal AVM", yielding 34 results after abstract screening and cross-reference. Endovascular embolization was determined to have better long-term outcomes, with 10/19 (52.6%) patients with postoperative complications associated with open vascular surgeries. Open versus endovascular surgical decisions can be difficult with unique spinal AVM pathologies in pediatric patients. Important considerations such as size, location, neurological deficits, and risk of rupture are important factors to consider in treating these patients. We recommend endovascular treatment as a first-line approach due to lower risk of hemorrhage and postoperative deficits.