01.09.2020 | Review | Ausgabe 6/2020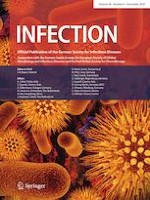 Treatment options for
K. pneumoniae

,

P. aeruginosa

and

A. baumannii

co-resistant to carbapenems, aminoglycosides, polymyxins and tigecycline: an approach based on the mechanisms of resistance to carbapenems
Zeitschrift:
Autoren:

Stamatis Karakonstantis, Evangelos I Kritsotakis, Achilleas Gikas
Abstract
The management of carbapenem-resistant infections is often based on polymyxins, tigecycline, aminoglycosides and their combinations. However, in a recent systematic review, we found that Gram-negative bacteria (GNB) co-resistant to carbapanems, aminoglycosides, polymyxins and tigecycline (CAPT-resistant) are increasingly being reported worldwide. Clinical data to guide the treatment of CAPT-resistant GNB are scarce and based exclusively on few case reports and small case series, but seem to indicate that appropriate (in vitro active) antimicrobial regimens, including newer antibiotics and synergistic combinations, may be associated with lower mortality. In this review, we consolidate the available literature to inform clinicians dealing with CAPT-resistant GNB about treatment options by considering the mechanisms of resistance to carbapenems. In combination with rapid diagnostic methods that allow fast detection of carbapenemase production, the approach proposed in this review may guide a timely and targeted treatment of patients with infections by CAPT-resistant GNB. Specifically, we focus on the three most problematic species, namely
Klebsiella pneumoniae
,
Pseudomonas aeruginosa
and
Acinetobacter baumannii
. Several treatment options are currently available for CAPT-resistant
K. pneumonia
. Newer β-lactam-β-lactamase combinations, including the combination of ceftazidime/avibactam with aztreonam against metallo-β-lactamase-producing isolates, appear to be more effective compared to combinations of older agents. Options for
P. aeruginosa
(especially metallo-β-lactamase-producing strains) and
A. baumannii
remain limited. Synergistic combination of older agents (e.g., polymyxin- or fosfomycin-based synergistic combinations) may represent a last resort option, but their use against CAPT-resistant GNB requires further study.