12.06.2020 | Original Article—Liver, Pancreas, and Biliary Tract | Ausgabe 9/2020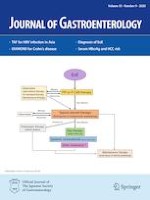 Treatment outcomes after splenectomy with gastric devascularization or balloon-occluded retrograde transvenous obliteration for gastric varices: a propensity score-weighted analysis from a single institution
Zeitschrift:
Autoren:

Ko Oshita, Masahiro Ohira, Naruhiko Honmyo, Tsuyoshi Kobayashi, Eisuke Murakami, Hiroshi Aikata, Yasutaka Baba, Reo Kawano, Kazuo Awai, Kazuaki Chayama, Hideki Ohdan
Wichtige Hinweise
Electronic supplementary material
Publisher's Note
Springer Nature remains neutral with regard to jurisdictional claims in published maps and institutional affiliations.
Abstract
Background
Although balloon-occluded retrograde transvenous obliteration (BRTO) is often selected to treat gastric varices caused by portal hypertension, data comparing BRTO and splenectomy with gastric devascularization (Sp + Dev) are limited.
Methods
From January 2009 to February 2018, 100 patients with gastric varices caused by portal hypertension who underwent Sp + Dev (
n
 = 45) or BRTO (
n
 = 55) were included. Overall survival (OS) and the rebleeding rate were calculated using the inverse probability of a treatment weighting-adjusted log-rank test. Independent risk factors were identified by Cox regression analysis. Changes in liver function and adverse events after the procedures were analyzed.
Results
Patients in the Sp + Dev group tended to have lower platelet counts than those in the BRTO group, but liver function did not differ between these groups. The 5-year OS rates for the Sp + Dev and BRTO groups were 73.4 and 50.0% (
p
 = 0.005), respectively. There were no significant differences in rebleeding rates between the two groups. Multivariate analysis showed that serum albumin level ≤3.6 g/dL, prothrombin time% activity (PT%) ≤80%, and serum creatinine level ≥0.84 mg/dL were poor prognostic factors. Although the Sp + Dev group had more short-term complications after procedures, Sp + Dev tended to be more effective in improving liver function than BRTO.
Conclusions
Sp + Dev showed better OS and improvement of liver function compared with BRTO for the treatment of gastric varices caused by portal hypertension.