01.12.2017 | Research article | Ausgabe 1/2017 Open Access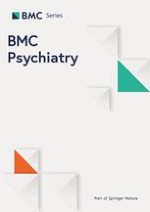 Treatment outcomes in schizophrenia: qualitative study of the views of family carers
Zeitschrift:
Autoren:

Joanne Lloyd, Helen Lloyd, Ray Fitzpatrick, Michele Peters
Wichtige Hinweise
Electronic supplementary material
The online version of this article (doi:
10.​1186/​s12888-017-1418-8
) contains supplementary material, which is available to authorized users.
Background
Improving treatment outcomes and quality of life for people with long-term mental health conditions are key aims of health care policy [
1
,
2
]. Schizophrenia is a particularly important target, being associated with poor quality of life [
3
] and individual and societal impacts [
4
–
6
], and requiring long-term treatment [
7
]. Antipsychotic medications can ameliorate some symptoms and improve quality of life [
3
,
8
,
9
], but individual responses vary [
10
,
11
], and many discontinue medication due to poor efficacy or debilitating side effects [
12
,
13
]. Treatment outcomes are often assessed by clinician ratings, and/or symptom scales [
14
], but patients and carers may prioritise different outcomes to clinicians [
15
–
17
], and controlling symptoms is not the only outcome of importance [
14
]. The recovery literature draws attention to the importance of recognising a broad array of outcome domains in schizophrenia treatment, highlighting the relevance of improved social and domestic functioning, alongside subjective wellbeing, optimism and empowerment (e.g. [
18
,
19
]). Patients and relatives, in particular, refer to subjective wellbeing when defining 'remission', in contrast to traditional clinical definitions focused around reduced symptom scores [
17
]. People with schizophrenia value outcomes such as achieving life milestones, feeling safe, improved physical activity, employment, a positive sense of self and psychosocial outcomes [
20
]. Understanding the full range of treatment outcomes important to people with schizophrenia and their carers is key for ensuring that clinical practice, research and assessment are aligned with patient and carer priorities [
4
,
21
].
While people with schizophrenia can give valid and reliable accounts of outcomes [
22
–
24
], symptoms can make it difficult to participate in research [
25
], and carers represent a valuable additional resource [
15
,
21
,
26
]. Furthermore, carers have the potential to influence treatment decisions [
26
], and experience, indirectly, the impact of outcomes. This study sought to explore the treatment outcomes that carers feel are important for people with schizophrenia. It used a framework informed by a thematic review of the existing literature on treatment outcomes of importance to patients and carers, and a consensus conference with professionals, carers and patients, and aimed to identify whether carers report any outcome domains that have not been emphasised in the current literature.
Method
Results
Discussion
Principle findings
All the schizophrenia treatment outcomes identified in the literature review and consensus conference preceding the study (i.e. symptom-related outcomes; functional outcomes; personal recovery; quality of life; and satisfaction with treatment) were confirmed in these qualitative interviews, along with several novel sub-categories within existing domains and a novel category of physical health and lifestyle, thus giving a deeper understanding of outcomes in this condition. While a large proportion of the sample endorsed most of the themes, it should be noted that frequency information are indicative of the frequency of these domains within our sample, and cannot be extrapolated from to estimate the prevalence of these concerns in carers of persons with schizophrenia.
While the importance of physical activity for persons with schizophrenia is recognised within the literature [
30
], and low levels of physical activity have been demonstrated empirically to be associated with poorer outcomes in schizophrenia [
31
], its importance as a treatment
outcome
is not expressed in existing outcome measures. This highlights the need to consider physical activity as a potentially relevant outcome domain in its own right. Designing interventions for schizophrenia that include attention to physical health and lifestyle, could help improve outcomes for many patients.
Safety of the patient (and those around them), and reduction of their fear, distress or pain, were considered important by most carers, and it is easy to see why they would value these outcomes, relating to resolution of negative practical and emotional consequences of symptoms. While the importance of these outcomes may be intuitive, they are not explicitly represented in current outcome measures, and this study is novel in highlighting their particular salience. These outcomes could be described as 'secondary', in the sense that they could be logically expected to follow on from the more 'primary' outcome of amelioration of (particularly, positive) symptoms. However, it could also be argued that there are other means of reducing patients' fear, distress, or pain, aside from by symptom resolution, and thus outcome measures could benefit from assessing the extent to which treatments help to reduce a patient's experience of these negative states. This could help professionals to gain a fuller understanding of how a given treatment programme is impacting on the individual's level of fear and distress.
Most carers also valued insight which they often reported to be associated with improved communication with the person with schizophrenia, and a return of their personality and/or of a more favourable, 'normal' temperament. This is consistent with findings that insight in schizophrenia is associated with social cognition [
32
], and lower scores on an aggression scale [
33
]. Carers also described insight's importance for enabling patients to apply cognitive strategies to counter paranoid thoughts, delusions or hallucinations, consistent with the finding that insight can be predictive of prognosis [
34
]. Monitoring level of insight may be beneficial in order to inform decisions about
when
cognitive interventions may be more effective. Exploring the value of educating carers in ways to cope with poor insight in the person for whom they care, could be another important target for future work.
Within functional outcomes, many carers talked of 'getting out' (i.e. leaving the house), similar to the existing domain of engaging in leisure pursuits, but at a more preliminary level. Caring for pets, similarly, could be conceptualised as a specific form of role functioning/productivity. Where residual difficulties are considerable and/or recovery is particularly limited, less 'ambitious' functional outcomes such as these may be particularly relevant. This is consistent with the observation that traditional social functioning measures may not be relevant to people with severe disabilities related to schizophrenia [
35
], and with carers' comments about reduced potential and lowering of expectations. From carers' references to a range of key developmental/life events such as moving out of the family home, getting a job, learning to drive, and having a romantic relationship, we identified 'reaching life milestones' as an important and novel outcome. Because schizophrenia onset is typically during adolescence or early adulthood [
36
], before traditional milestones have been reached, it is logical that the
reaching
of milestones would for many be the goal, rather than the resumption of familial, domestic, occupational or educational roles and responsibilities. This highlights the fact that functional outcome measures in schizophrenia may need to take subtle levels of attainment into account, in order to accurately capture small gains.
Within the realm of 'personal recovery' many carers highlighted the importance of changes in personality and temperament, and several described the return of the person they used to know as
the
most important outcome; understandably so, considering that these are good outward indicators of wellness and 'personal recovery' and directly impact upon the patient-carer relationship. Indeed, temperament has been linked with functional outcomes and psychological health [
37
]. Also relating to personal recovery, many carers discussed patients' vulnerability (to stress, and in general) and sensitivity, consistent with empirical findings of increased biological reactivity to stress in schizophrenia [
38
]. These were typically described as residual unresolved difficulties, and several carers reported that they limited patients' attainment of functional outcomes and acted as precipitants of relapse, requiring careful monitoring. This could indicate a potential benefit to be found in involving carers, where appropriate, in helping patients to monitor level of stress, and react quickly to try and reduce its impact.
In the sub-category of 'leading a normal life', a number of carers spoke of the importance of treatment for helping patients to avoid socially unacceptable/antisocial/illegal behaviours, (often precipitated by positive symptoms), in order to reduce risk of arrest or sectioning, facilitate social interactions and minimise stigma – consistent with findings that socially unacceptable behaviour is strongly associated with stigma in schizophrenia [
39
].
Consistent with other studies, many carers expressed desire for greater monitoring of physical health [
40
]. Exercise/physical activity, diet, and weight were all salient concerns; again consistent with findings of elevated obesity [
41
] and low activity [
42
] in schizophrenia/severe mental illness. A wide range of contributing factors were cited by the carers, including medication side effects, positive, negative and affective symptoms, and eating replacing less attainable leisure pursuits. Several also described patients who used alcohol or drugs to self-medicate and/or compensate for a lack of alternative leisure outlets; consistent with reported motivations for substance use in schizophrenia [
43
]. Some carers did describe physical health benefits of treatment, e.g. where it reduced use of drugs or alcohol for self-medication, or reduced symptoms enough to allow patients to exercise or shop for healthy food. In relation to lifestyle more generally, several carers emphasised the importance of routine, as a desirable outcome and useful intervention for facilitating the attainment of other outcomes (consistent with a study where people with schizophrenia rated organization of time as a useful coping strategy [
44
]). The discovery that physical health is an important concern in schizophrenia is not novel, but this study does support the growing body of work emphasising the importance of incorporating physical health interventions into schizophrenia treatment programmes (e.g. [
45
]).
Strengths and limitations
This study confirms the key treatment outcome categories found in the current literature, and contributes evidence of additional outcomes that carers feel are important for patients but are not apparently captured in current thinking about, and measurement of, schizophrenia outcomes. However, there are some possible biases in the sample. The majority of carers interviewed were parents of a person with schizophrenia, with a gender bias in the sample, such that around three quarters of participants were female. However, this is in line with the gender balance found in other convenience samples of carers of persons with schizophrenia [
46
], and reflects the fact that mothers are most frequently the primary carer in schizophrenia [
47
]. It is possible that spouses, siblings, or children (or those of a younger age in general) may have different perceptions of what the important outcomes are. Most participants were recruited via Rethink Mental Illness, which may have meant they were particularly well-informed about features of schizophrenia and issues around treatment. Finally, the patients discussed were typically quite advanced in chronicity (in most cases >10 years post-diagnosis). While carers were asked to discuss outcomes that they felt were important at different phases of illness, it is nevertheless possible that carers of patients more immediately post-diagnosis would report different outcomes. Future studies could benefit from exploring outcomes with younger carers with different relationships to the patient, from a range of backgrounds, and those caring for people more early post-diagnosis.
The outcomes carers identified as being important for patients may not be identical to the outcomes that patients themselves would identify. However, there is generally good agreement between the two [
21
], and as agents who potentially influence patients' treatment decisions [
16
], and experience the consequences of the illness [
48
], carers' views are important in their own right. Furthermore, we were able to gain insight into outcomes that might not otherwise have been represented, as most of the carers interviewed reported that the patients they were speaking about would have been unwilling/unable to participate (e.g. 'he hates talking about it when he was really ill… he said, "It makes me feel so ill again" [C41]).
Conclusions
The findings from this study contribute to our understanding of the full range of treatment outcomes that carers feel are important to people with schizophrenia, and could contribute to ensuring research, treatment planning and assessment are aligned with the needs and priorities of patients [
4
]. The breadth of information gleaned from these interviews with family carers indicates what an important resource this population represents. Furthermore, it is clear that informal carers typically bear a high burden of care in schizophrenia [
49
]. Working with carers to gain insights and coordinate interventions, where appropriate, could be a valuable way for professionals to develop person-centred approaches in schizophrenia. Outcomes of treatment should ideally be assessed with measures that both complement existing clinical scales and incorporate patient and carer priorities. The domains and more specific experience emphasised here should inform the further development of such patient- or carer- focused outcome measures in order to ensure more appropriate and complete evaluation of interventions.
Acknowledgments
The authors would like to acknowledge the support of Rethink Mental Illness in advertising the study, and the input of all the carers who took part.
Funding
This work was supported by EUFAMI, the European Federation of Associations of Families with Mental Illness.
Dr. Joanne Lloyd was supported by the National Institute for Health Research (NIHR) Collaboration for Leadership in Applied Health Research and Care Oxford whilst working on drafts of this article. Dr. Helen Lloyd was supported by the National Institute for Health Research (NIHR) Collaboration for Leadership in Applied Health Research and Care South West Peninsula whilst commenting on drafts of this paper. Throughout this project, Prof Ray Fitzpatrick and Dr. Michele Peters were supported by the Department of Health funded Policy Research Unit on Quality and Outcomes of Person Centred Care (QORU), a collaboration between the London School of Economics and Political Science (LSE) and the Universities of Kent and Oxford. The views expressed are those of the author(s) and not necessarily those of the NHS, the NIHR or the Department of Health.
Availability of data and materials
Anonymised transcripts are available from the corresponding author.
Ethics approval and consent to participate
Ethical approval was obtained from NHS East of Scotland Research Ethics Service (EoSRES) REC 1 by proportionate review (Application Number 13/ES/0143). All participants gave written informed consent.
Consent for publication
Participants have given consent that anonymised quotes can be used in publications.
Competing interests
The authors declare that they have no competing interests.
Publisher's Note
Springer Nature remains neutral with regard to jurisdictional claims in published maps and institutional affiliations.
Open Access
This article is distributed under the terms of the Creative Commons Attribution 4.0 International License (
http://​creativecommons.​org/​licenses/​by/​4.​0/​
), which permits unrestricted use, distribution, and reproduction in any medium, provided you give appropriate credit to the original author(s) and the source, provide a link to the Creative Commons license, and indicate if changes were made. The Creative Commons Public Domain Dedication waiver (
http://​creativecommons.​org/​publicdomain/​zero/​1.​0/​
) applies to the data made available in this article, unless otherwise stated.