26.04.2017 | Ausgabe 4/2017 Open Access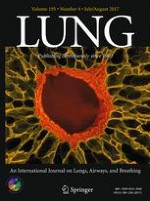 Treatment with Geranylgeranylacetone Induces Heat Shock Protein 70 and Attenuates Neonatal Hyperoxic Lung Injury in a Model of Bronchopulmonary Dysplasia
Zeitschrift:
Autoren:

Shuko Tokuriki, Aiko Igarashi, Takashi Okuno, Genrei Ohta, Hironobu Naiki, Yusei Ohshima
Abstract
Purpose
Bronchopulmonary dysplasia (BPD) is a respiratory complication characterized by abnormal alveolar development in premature infants. Geranylgeranylacetone (GGA) can induce heat shock protein (HSP) 70, which has cytoprotective effects against various stressors. Here, we investigated whether GGA protected neonatal lungs from hyperoxic stress in a murine BPD model, and measured the serum HSP70 levels in preterm humans treated with oxygen.
Methods
Newborn mice were exposed to >90% oxygen and administered GGA or vehicle alone orally on days 1, 2, and 3 of life. At 2 days of age, HSP70 expression in the lung was determined by western blotting. At 8 days of age, the lungs were processed for histological analysis. Radial alveolar count (RAC) and mean linear intercept (MLI) were measured as parameters of alveolarization. Apoptosis was evaluated by the terminal deoxynucleotidyl transferase-mediated dUTP nick end labeling (TUNEL) method and cleaved caspase-3 immunohistochemistry. Serum HSP70 levels in preterm humans treated with oxygen were measured by enzyme-linked immunosorbent assay.
Results
GGA administration enhanced the HSP70 expression to two-fold compared with normoxia-exposed and vehicle-treated mice. Hyperoxia reduced HSP70 expression, whereas GGA abrogated the effects. Hyperoxia-exposed mice exhibited more apoptotic cells in lung parenchyma and a more simplified alveolar structure with less RAC and larger MLI than normoxia-exposed mice. GGA suppressed the increase in apoptotic cells and the structural changes of the lungs induced by hyperoxia. Serum HSP70 levels of preterm human infants gradually decreased with age.
Conclusions
GGA may attenuate hyperoxic injury in neonatal lungs and thereby may prevent the development of BPD.