01.12.2012 | Research article | Ausgabe 1/2012 Open Access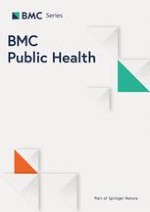 Trend in eating habits among Lithuanian school-aged children in context of social inequality: three cross-sectional surveys 2002, 2006 and 2010
Zeitschrift:
Autoren:

Apolinaras Zaborskis, Reda Lagunaite, Ryan Busha, Jolita Lubiene
Wichtige Hinweise
Electronic supplementary material
The online version of this article (doi:
10.​1186/​1471-2458-12-52
) contains supplementary material, which is available to authorized users.
Apolinaras Zaborskis, Reda Lagunaite, Ryan Busha and Jolita Lubiene contributed equally to this work.
Competing interests
The authors declare that they have no competing interests.
Authors' contributions
AZ made substantive intellectual contribution to the conception and design of the manuscript, and carried out statistical analysis. RL and JL were involved in data collection and in drafting of the manuscript. RB made substantial improvements to the manuscript and corrected text. All authors read and approved the final manuscript.
Background
Food prices are the most important consideration in food choice. Price determinants often lead to the selection of "cheaper" but biologically less valuable and spoiled foodstuffs in cases of restricted income. Part of the health consequences of these changes is clear now - the number of diseases caused by infected food is increasing. Other consequences will emerge in the decades to come. These negative effects are not acceptable for the population or the state. In order to prevent public health and social problems related to poor nutrition, it is crucial to identify and predict changes in eating behaviour of the population groups with special respect to children and adolescents.
The assessment of trends over time requires identical repeated measurements and study designs. However, these types of studies are difficult to continue in the long-term. We have access to comparable data on fruits, vegetables, and other food intakes from the cross-national HBSC study in Lithuania, where data has been collected since 1994. This study measured food intake using food frequency questionnaire methods; however, over time the phrasing of questions and response categories have changed, the most recent affecting our analysis came in 2002.
In the present study, we aim at describing trends in the prevalence of daily fruit and vegetable consumption and regular intake of low-nutritive foods (sweets, chips, soft drinks and other) among Lithuanian schoolchildren aged 11, 13 and 15 by cross-sectional data collected via three nationally representative and comparable questionnaire surveys in 2002, 2006 and 2010. Furthermore, we aim to demonstrate changes in social inequalities of food consumption and the contribution of social variables to the trends of food intake among the young Lithuanians.
Methods
Subjects and study design
The data presented here were obtained from three cross-sectional surveys conducted in 2002, 2006 and 2010 (March - April) in Lithuania according to the methodology of World Health Organization collaborative HBSC study (more detailed information about the study is provided elsewhere [
9
,
13
–
15
]). Researchers strictly followed the standardized international research protocol to ensure consistency in survey instruments, data collection and processing procedures.
The study conformed to the principles outlined in the Declaration of Helsinki and was approved by Kaunas Regional Committee for Biomedical Research (No BE-2-72, 30 Dec 2005 and No P1-170/2005, 12 Jan 2010). National and local educational institutions also agreed to the study protocols and procedures.
The population selected for sampling was 11, 13 and 15 years old attending school with the desired mean age for three age groups being 11.5, 13.5 and 15.5 respectively. Participants were selected using a clustered hierarchical sampling design, where the initial sampling unit was a class of the fifth, seventh or ninth grades (the most appropriate grades for required students' age groups). Samples of students were drawn to be representative by age and gender. The recommended sample size for each survey was approximately 1,500 students per age group [
15
]. In total, over 300 classes from approximately 100 Lithuanian schools, representing the entire country, were drawn for each survey to ensure the requested number of surveyed students.
Questionnaires were administered in school classrooms by form tutors who complied with written instructions. The time frame for filling out the questionnaires was 1 - 1 1/2 school period (45 - 70 min). Participants could freely choose to participate, and anonymity and confidentially were ensured at all stages of the study. After completing the questionnaires, students sealed the provided envelopes themselves with their questionnaires inside. Form tutors reported the number of participants and process of questioning. Response rates were over 90% during all three surveys.
Upon completion of the fieldwork, the data were prepared using standard methods and submitted to the HBSC International Data Bank at the Bergen University, Norway. The data were checked, cleaned, included in the international HBSC database, and returned to the country for further statistical processing.
The analysis presented here is based on the total number of 16,615 records (5,645, 5,632 and 5,338, respectively from the surveys of 2002, 2006 and 2010) selected by quality criteria of the international HBSC database.
Measures
The questionnaire consisted of about 200 items assessing different aspects of health behaviour, subjective health, social and the psychological environment. Questionnaire topics and items were discussed and approved by the international experts involved in HBSC [
15
]. The national questionnaire was adopted after translation of the questionnaire from the Standard English version into Lithuanian and retranslation back into English.
In the present study, the outcome measure was a diet assessment with a self-administered food frequency scale, which included seven foods typically consumed by children and adolescents. Young people were asked how many times a week they drink soft drinks (coke or other soft drinks that contain sugar), eat fruits, vegetables, sweets and chocolates, biscuits and pastries, chips, and fast food items, e.g. hamburgers, doughnuts (the questions about chips and fast food were not asked in 2002). The possible responses were: "never", "less than once a week", "about once a week", "two to four days a week", "five to six days a week", "once a day, every day", and "every day, more than once". For fruit and vegetable intake, responses were dichotomized: less than daily and daily, whereas for the remaining food item responses were dichotomized as follows: less than five times a week and five or more days a week (in further analyses, the category "five or more days a week" was named by a "regular" term).
Four indicators of participant's social position used in all three surveys and were defined as follows: i) place of residence: urban area (the five largest cities of the country and towns such as regional centres) versus rural area (villages and countryside); ii) family structure: living in intact family (with both biological parents) versus living in non-intact family (missing a biological father or mother); iii) family socioeconomic status (SES), which was measured by a sum score of Family Affluence Scale and then defined low, middle and high family SES [
16
]; iv) subjective rating of family wealth into three categories: low ('not at all well off' or 'not so well off'), average and high ('very well off' or 'quite well off') according to the response options proposed for the question 'How well off do you think your family is?'
Statistical analysis
Data for boys and girls were analyzed separately. Crude rates of dichotomized food intakes by social position groups were produced for each study year separately as well as for the total sample of 11-15 year olds surveyed in 2002, 2006 and 2010. We applied χ2 and Z tests, where appropriate, to assess the differences in the prevalence of foods consumption in differing groups. For multivariate analyses, we used age, year of the survey and indicators of social position. Binary logistic regression analysis was used to produce odds ratios (OR) with 95% confidence intervals (CI), which indicated the likelihood of daily/regular eating of typical foods for boys and girls, with certain characteristics relative to the reference group.
Estimation of trends was based on analysis of changes in the annual rates of food intakes. Differences between years of the survey were also shown in the OR values, which were estimated by three logistic models:
2.
Year of the survey + age + family SES and subjective rating of family wealth
3.
Year of the survey + age + family SES and subjective rating of family wealth + place of residence and family structure.
All models were adjusted by age of respondents, and 2002 (or 2006 for chips and fast food) denoted the reference year. To determine the statistical significance of the association between change of social factor and changes of eating frequency of a certain foodstuff, the relative reduction in OR for survey year caused by adding the factor to the model was calculated. Interactions between the survey years and other factors were tested.
All statistical analyses were performed with SPSS for Windows version 15.0 (SPSS Inc., Chicago, IL, USA) statistical software package. P value of ≤ 0.05 was considered statistically significant.
Results
Discussion
In our study only four social position variables (place of residence, family structure, SES and subjective rating wealth), which were measured by the same methods in all surveys, were included in the analysis. Subjective rating of family wealth, which is a summarizing measure, was used for more detailed analysis and comparison of different social groups of adolescents.
Conclusions
In summary, our data indicate that Lithuanian school-aged children are not consuming enough fruits and vegetables, meanwhile they might be characterized by moderate consumption of less healthy foods. This phenomenon was quite stable over a period of 8 years. Important social and demographic differences were found in the consumption of both "healthy" and "less healthy" food items among children. In Lithuania, existing socio-economical disadvantages are very important for the nutrition of school-aged children and should be a priority, in order to combat health and social inequalities of children.
Also, the results of this report indicate a need for continued monitoring of eating behaviors and social determinants affecting food consumption among Lithuanian school-aged children. The Lithuanian National Health Council should evaluate the implications for nutrition policy of the results discussed here.
Acknowledgements
HBSC is an international study carried out in collaboration with WHO/EURO. A complete description of the study and a list of researchers can be found on the HBSC website
http://​www.​HBSC.​org
.
This research was supported by the national research program on
Chronic Non-communicable diseases
, and granted by the Research Council of Lithuania (contract # LIG-01/2010).
This article is published under license to BioMed Central Ltd. This is an Open Access article distributed under the terms of the Creative Commons Attribution License (
http://​creativecommons.​org/​licenses/​by/​2.​0
), which permits unrestricted use, distribution, and reproduction in any medium, provided the original work is properly cited.
Competing interests
The authors declare that they have no competing interests.
Authors' contributions
AZ made substantive intellectual contribution to the conception and design of the manuscript, and carried out statistical analysis. RL and JL were involved in data collection and in drafting of the manuscript. RB made substantial improvements to the manuscript and corrected text. All authors read and approved the final manuscript.