01.12.2018 | Research article | Ausgabe 1/2018 Open Access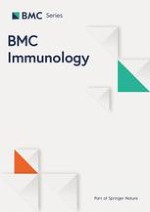 Treponema pallidum

promotes macrophage polarization and activates the NLRP3 inflammasome pathway to induce interleukin-1β production
Zeitschrift:
Autoren:

Li-Rong Lin, Wei Liu, Xiao-Zhen Zhu, Yu-Yan Chen, Zheng-Xiang Gao, Kun Gao, Man-Li Tong, Hui-Lin Zhang, Yao Xiao, Wen-Dong Li, Shu-Lian Li, Hui-Ling Lin, Li-Li Liu, Zan-Xi Fang, Jian-Jun Niu, Yong Lin, Tian-Ci Yang
Abstract
Background
The involvement of inflammasome activation and macrophage polarization during the process of syphilis infection remains unknown. In this study, A series of experiments were performed using human macrophages to research the role of NLRP3 inflammasome regulation in interleukin (IL)-1β production and its influence on macrophage polarization triggered by
T. pallidum
.
Results
The results showed that in M0 macrophages treated with
T. pallidum,
the M1-associated markers inducible nitric oxide synthase (iNOS), IL-1β and TNF-α were upregulated, and the M2-associated markers CD206 and IL-10 were downregulated. In addition, we observed NLRP3 inflammasome activation and IL-1β secretion in
T. pallidum
-treated macrophages, and the observed production of IL-1β occurred in a dose- and time-dependent manner. Moreover, the secretion of IL-1β by macrophages after
T. pallidum
treatment was notably reduced by anti-
NLRP3
siRNA and caspase-1 inhibitor treatment. NAC, KCl, and CA074-ME treatment also suppressed IL-1β release from
T. pallidum
-treated macrophages.
Conclusions
These findings showed that
T. pallidum
induces M0 macrophages to undergo M1 macrophage polarization and elevate IL-1β secretion through NLRP3. Moreover, the process of NLRP3 inflammasome activation and IL-1β production in macrophages in response to
T. pallidum
infection involves K
+
efflux, mitochondrial ROS production and cathepsin release. This study provides a new insight into the innate immune response to
T. pallidum
infection.