01.07.2016 | Lipid Abnormalities and Cardiovascular Prevention (G De Backer, Section Editor) | Ausgabe 7/2016 Open Access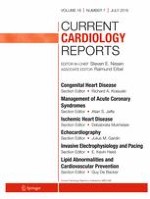 Triglyceride-Rich Lipoproteins and Remnants: Targets for Therapy?
Zeitschrift:
Autoren:

Geesje M. Dallinga-Thie, Jeffrey Kroon, Jan Borén, M. John Chapman
Wichtige Hinweise
This article is part of the Topical Collection on
Lipid Abnormalities and Cardiovascular Prevention
Abstract
It is now evident that elevated circulating levels of triglycerides in the non-fasting state, a marker for triglyceride (TG)-rich remnant particles, are associated with increased risk of premature cardiovascular disease (CVD). Recent findings from basic and clinical studies have begun to elucidate the mechanisms that contribute to the atherogenicity of these apoB-containing particles. Here, we review current knowledge of the formation, intravascular remodelling and catabolism of TG-rich lipoproteins and highlight (i) the pivotal players involved in this process, including lipoprotein lipase, glycosylphosphatidylinositol HDL binding protein 1 (GPIHBP1), apolipoprotein (apo) C-II, apoC-III, angiopoietin-like protein (ANGPTL) 3, 4 and 8, apoA-V and cholesteryl ester transfer protein; (ii) key determinants of triglyceride (TG) levels and notably rates of production of very-low-density lipoprotein 1 (VLDL1) particles; and (iii) the mechanisms which underlie the atherogenicity of remnant particles. Finally, we emphasise the polygenic nature of moderate hypertriglyceridemia and briefly discuss modalities for its clinical management. Several new therapeutic strategies to attenuate hypertriglyceridemia have appeared recently, among which those targeted to apoC-III appear to hold considerable promise.