25.08.2020 | Original Article | Ausgabe 12/2020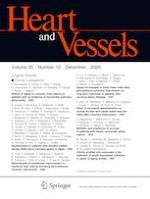 TRPC6 participates in the development of blood pressure variability increase in sino-aortic denervated rats
Zeitschrift:
Autoren:

Yu Wang, Ling Liu, Hongmei Tao, Li Wen, Shu Qin
Wichtige Hinweise
Publisher's Note
Springer Nature remains neutral with regard to jurisdictional claims in published maps and institutional affiliations.
Abstract
Increased blood pressure variability (BPV) has been proved to be associated with cardiovascular morbidity and mortality. It is of great significance to elucidate the mechanism of BPV increase. The cation channel transient receptor potential canonical 6 (TRPC6) is involved in a series of cardiovascular disease. Our experiment aimed to explore the role of TRPC6 in the development of BPV increase. Sino-aortic denervation (SAD) operation was applied to establish the model of BPV increase in rats. The BPV was presented as the standard deviation to the mean of systolic or diastolic blood pressure every 1 h during 12 h of the light period. SAD was performed in male Sprague Dawley (SD) rats at the age of 10 weeks. At 8 weeks after SAD operation, the hemodynamic parameters were determined non-invasively via a Rodent Blood Pressure Analysis System. The TRPC6 expressions in myocardial and thoracic aortic tissue was determined utilizing Western Blot, immunofluorescence and quantitative RT-PCR. The expression of TRPC3 was detected as well. To investigate whether TRPC6 was a causative factor of BPV increase in SAD rats, TRPC6 activator and inhibitor with three progressively increasing doses were intraperitoneally injected to the SAD rats. We found that SAD rats presented significant augmentation of systolic and diastolic BPV with no change of BP level and heart rate. The mRNA and protein expression levels of TRPC6 in myocardial and thoracic aortic tissue in SAD rats were substantially increased, but there was no obvious change in TRPC3 expression. The systolic and diastolic BPV increase were dose-dependently exacerbated after TRPC6 activation with GSK1702934A but were dose-dependently attenuated after TRPC6 inhibition with SAR7334. In Conclusion, the TRPC6 (but not TRPC3) expressions in myocardial and thoracic aortic tissue were substantially increased in SAD rats, and TRPC6 probably played an important role in the development of BPV elevation.