08.05.2017 | Brief Communication | Ausgabe 4/2017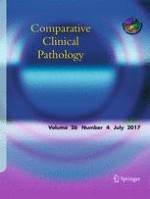 TRPV1 gene polymorphisms in patients with diabetes compared with healthy individuals
Zeitschrift:
Autoren:

Robab Bigom Aboutorabi, Masoud Mohebbi, Mohammad Ali Yaghoubi, Abdol Rahim Rezaee, Amirhossein Sahebkar
Abstract
Type 1 diabetes is an autoimmune disease that is caused by pancreatic islet inflammation. Various studies on non-obese diabetic mice have shown associations between transient receptor vanilloid type-1 (TRPV1) gene polymorphism in pancreatic sensory neurons and the incidence of insulitis and insulin resistance. Inhibition of these neurons improves insulitis and prevents the onset of autoimmune diabetes. The aim of this study was to investigate the genetic variation of TRPV1 gene in type 1 diabetic patients and healthy controls. The genotypes of three single nucleotide polymorphisms (SNPs) of the
TRPV1
gene (
rs222749
,
rs222447
, and
rs224534
) were investigated in 50 patients with type 1 diabetes and 50 healthy controls using PCR-restriction fragment length polymorphism analysis and DNA sequencing. Then, the frequencies of TRPV1 gene variants were compared between patient and control groups. The results showed that there was no significant difference in allele frequency of the three TRPV1 gene SNPs between patients with type 1 diabetes and healthy controls. Likewise, distribution of genotypes did not significantly differ between patients and controls. In this study, no significant association was found between
TRPV1
gene polymorphisms and the presence of type 1 diabetes.