01.03.2018 | Original Contribution | Ausgabe 2/2018 Open Access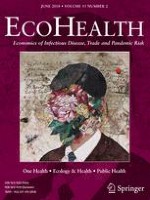 Trypanosoma cruzi

Transmission Among Captive Nonhuman Primates, Wildlife, and Vectors
Zeitschrift:
Autoren:

Carolyn L. Hodo, Gregory K. Wilkerson, Elise C. Birkner, Stanton B. Gray, Sarah A. Hamer
Abstract
Natural infection of captive nonhuman primates (NHPs) with
Trypanosoma cruzi
(agent of Chagas disease) is an increasingly recognized problem in facilities across the southern USA, with negative consequences for NHP health and biomedical research. We explored a central Texas NHP facility as a nidus of transmission by characterizing parasite discrete typing units (DTU) in seropositive rhesus macaques (
Macaca mulatta
), identifying the wildlife reservoirs, and characterizing vector infection. In seropositive NHPs, we documented low and intermittent concentrations of circulating
T. cruzi
DNA, with two DTUs in equal proportions, TcI and TcIV. In contrast, consistently high concentrations of
T. cruzi
DNA were found in wild mesomammals at the facility, yet rodents were PCR-negative. Strong wildlife host associations were found in which raccoons (
Procyon lotor
) harbored TcIV and opossums (
Didelphis virginiana
) harbored TcI, while skunks (
Mephitis mephitis
) were infected with both DTUs. Active and passive vector surveillance yielded three species of triatomines from the facility and in proximity to the NHP enclosures, with 17%
T. cruzi
infection prevalence. Interventions to protect NHP and human health must focus on interrupting spillover from the robust sylvatic transmission in the surrounding environment.