01.12.2017 | Research | Ausgabe 1/2017 Open Access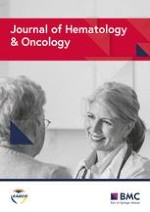 TTBK2 circular RNA promotes glioma malignancy by regulating miR-217/HNF1β/Derlin-1 pathway
Zeitschrift:
Autoren:

Jian Zheng, Xiaobai Liu, Yixue Xue, Wei Gong, Jun Ma, Zhuo Xi, Zhongyou Que, Yunhui Liu
Wichtige Hinweise
Electronic supplementary material
The online version of this article (doi:
10.​1186/​s13045-017-0422-2
) contains supplementary material, which is available to authorized users.
Abbreviations
EOC
Epithelial ovarian cancer
HNF1β
Hepatocyte nuclear factor-1beta
RISC
RNA-induced silencing complex
FISH
Fluorescence in situ hybridization
RIP
RNA-binding protein immunoprecipitation
ChIP
Chromatin immunoprecipitation
Background
In the present study, we investigated the expression and functions of circ-TTBK2, miR-217, HNF1β, and Derlin-1 in glioma tissues and cells. Circ-TTBK2, but not linear TTBK2, exerted oncogenic role in glioma cells. Furthermore, miR-217 targeted circ-TTBK2 in a sequence-specific manner, miR-217 and circ-TTBK2 formed a negative feedback loop possibly mediated by RNA-induced silencing complex (RISC). Moreover, HNF1β was confirmed to harbor a binding site of miR-217 using dual-luciferase assays. These results demonstrated a detailed function of circ-TTBK2 in glioma and provided a novel potential approach for glioma therapy.
Results
Discussion
In this study, we demonstrated that circ-TTBK2 was upregulated in glioma tissues and cell lines. Overexpression of circ-TTBK2 promoted glioma cells malignant progression. In contrary, miR-217 was downregulated in glioma tissues and cell lines. Restoration of miR-217 restrained glioma cells malignant progression. Moreover, miR-217 bound to circ-TTBK2 in a sequence-dependent manner and there was a reciprocal negative feedback between circ-TTBK2 and miR-217. Further, overexpression of circ-TTBK2 increased HNF1β expression via impairing miR-217 expression which negatively regulated HNF1β by targeting its 3′-UTR. HNF1β was upregulated in glioma tissues and cells and promoted cell proliferation, migration, and invasion, while inhibited apoptosis of glioma cells. Meanwhile, HNF1β enhanced the promoter activity and bound to the promoter of Derlin-1. In addition, Derlin-1, identified as an oncogene in glioma tissues and cells, was involved in the HNF1β-mediated promotion of glioma cells malignant progression. Overexpression of Derlin-1 facilitated malignancy of glioma cells. Mechanistically, PI3K/AKT and ERK pathways were involved in circ-TTBK2 regulated malignant progression of glioma cells. Remarkably, the in vivo study demonstrated that the inhibition of circ-TTBK2 and restoration of miR-217 exhibited the lowest tumor volume and the longest survival tumor-bearing nude mice.
Conclusions
In summary, our study revealed that circ-TTBK2 inhibition restrained malignant progression of glioma cells by upregulating miR-217. MiR-217 exerted tumor-suppressive function through downregulating HNF1β. HNF1β activated Derlin-1 via binding to its promoter. More importantly, inhibition of circ-TTBK2/miR-217/HNF1β/Derlin-1 axis may be a potential therapeutic target for human gliomas.
Methods
Human tissues specimens
For determination of circ-TTBK2 and miR-217, clinical specimens were divided into five group: NBTs (normal brain tissues) (
n
 = 11), grade I (
n
 = 19), grade II (
n
 = 19), grade III (
n
 = 19), and grade IV (
n
 = 19). For determination of HNF1β and Derlin-1, clinical specimens were divided into three groups: NBTs (
n
 = 8), grade I–II glioma group (low-grade glioma tissues) (
n
 = 16), and grade III–IV glioma group (high-grade glioma tissues) (
n
 = 16) based on the WHO 2007 classification of tumors by two experienced neuropathologists. Normal brain tissues (NBTs) were collected from patients' fresh autopsy material (donation from individuals who died in traffic accident and confirmed to be free of any prior pathologically detectable conditions) were used as negative control.
Cell culture
Human U87 and U251 glioma cell lines and human embryonic kidney (HEK) 293T cells were purchased from the Shanghai Institutes for Biological Sciences Cell Resource Center. Primary normal human astrocytes (NHA) were purchased from the Sciencell Research Laboratories (Carlsbad, CA, USA). For details, see Additional file
3
.
Fluorescence in situ hybridization (FISH)
For identification of circ-TTBK2 and miR-217 rearrangement in glioma tissues, circ-TTBK2 probe (green-labeled, Biosense, Guangzhou, China) (5′ CAATCTTTCTCAATGGTCTGACGTCA 3′) and miR-217 probe (red-labeled, Exiqon, Copenhagen, Denmark) were used. In brief, slides were treated with PCR-grade proteinase-K (Roche Diagnostics, Mannheim, Germany) blocked after with prehybridization buffer (3% BSA in 4 × saline-sodium citrate, SSC). The hybridization mix was prepared with circ-TTBK2 probe or miR-217 probe in hybridization solution. Then the slides was washed with washing buffer; the sections were stained with anti-digoxin rhodamine conjugate (1:100, Exon Biotech Inc, Guangzhou, China) at 37 °C for 1 h away from light. The sections were stained with 4′,6-diamidino-2-phenylindole (DAPI, Beyotime, China) for nuclear staining subsequently. All fluorescence images (100×) were captured using a fluorescence microscope (Leica, Germany).
Reverse transcription and quantitative real-time PCR
Trizol reagent (Life Technologies Corporation, Carlsbad, CA, USA) was used to extract total RNA from the clinical tissues and NHA, U87, and U251 cells. See also Additional file
3
.
Western blot
Cell transfections
Cell proliferation assay
Cell Counting Kit-8 assay (CCK-8, Dojin, Japan) was used to investigate glioma cell proliferation. Also, see Additional file
3
.
Migration and invasion assays
Twenty-four-well chambers with 8-μm pore size (Corning, USA) was used for migration and invasion determination of U87 and U251 cells in vitro. For details, see Additional file
3
.
Apoptosis analysis
Cell apoptosis was determined by Annexin V-PE/7AAD staining (Southern Biotech, Birmingham, AL, USA). See also Additional file
3
.
Reporter vectors construction and luciferase assays
RNA immunoprecipitation
Immunohistochemistry assays
The slides of human glioma tissue samples (4 μm thick) were dewaxed, rehydrated, and incubated in 0.3% H 2O 2 for 10 min to inhibit endogenous peroxidase activity before blocking with 10% normal goat serum (MXB, Fuzhou, China) for 30 min and incubating overnight at 4 °C with rabbit polyclonal antibody against HNF1β (1:150, SAB, Chicago, IL). Slides were washed with PBS three times and then incubated with biotinylated rabbit anti-rabbit IgG for 1 h at room temperature. After incubation with avidinbiotin-peroxidase complex for 10 min, samples were stained with 3, 3′-diaminobenzidine. Slides were imaged under a light microscope (Olympus, Japan) at 100× magnification.
Chromatin immunoprecipitation assay
ChIP assay was conducted with Simple ChIP Enzymatic Chromatin IP Kit (Cell signaling Technology, Danvers, Massachusetts, USA) according to the manufacturer's instruction as previously described [
49
]. In brief, glioma cells were fixed with 1% formaldehyde and collected in lysis buffer. Two percent aliquots of lysates were used as an input control and the remaining lysates were immunoprecipitated with normal rabbit IgG or HNF1β antibody. Immunoprecipitated DNA was amplified by PCR using their specific primers (as Additional file
4
).
Tumor xenografts in nude mice
Statistical analysis
Data are presented as mean 
+
 standard deviation (SD). All statistical analyses were evaluated by SPSS 18.0 statistical software with the Student's
t
test or one-way analysis of variance ANOVA. Differences were considered to be significant when
P
 < 0.05. Corresponding significance levels were indicated in the figures.
Acknowledgements
None.
Funding
This work was supported by grants from the Natural Science Foundation of China (81172197, 81272564, 81372484, and 81573010), Liaoning Science and Technology Plan Project (No. 2015225007), Shenyang Science and Technology Plan Projects (Nos. F15-199-1-30 and F15-199-1-57), and the outstanding scientific fund of Shengjing hospital (No. 201304).
Availability of data and materials
The datasets during and/or analyzed during the current study are available from the corresponding author on reasonable request.
Authors' contributions
YHL contributed to the experiment design and implementation, manuscript draft, and data analysis. JZ contributed to the experiment implementation and data analysis. YXX conceived or designed the experiments. JZ, XBL, and WG performed the experiments. JM, ZX, and ZYQ analyzed the data. JZ conceived or designed the experiments, performed the experiments, and wrote the manuscript. All authors read and approved the final manuscript.
Competing interests
None.
Consent for publication
Not applicable.
Ethics approval and consent to participate
All human glioma specimens were collected from patients diagnosed with glioma who are undergoing surgery at the Department of Neurosurgery of Shengjing Hospital, China Medical University, from January 2014 to January 2016. Informed consent was obtained from all patients and the project was approved by the Ethics Committee of Shengjing Hospital of China Medical University.
Four-week-old BALB/C athymic nude mice were purchased from the National Laboratory Animal Center (Beijing, China).All experiments with nude mice were performed strictly in accordance with a protocol approved by the Administrative Panel on Laboratory Animal Care of the Shengjing Hospital.
Open Access
This article is distributed under the terms of the Creative Commons Attribution 4.0 International License (
http://​creativecommons.​org/​licenses/​by/​4.​0/​
), which permits unrestricted use, distribution, and reproduction in any medium, provided you give appropriate credit to the original author(s) and the source, provide a link to the Creative Commons license, and indicate if changes were made. The Creative Commons Public Domain Dedication waiver (
http://​creativecommons.​org/​publicdomain/​zero/​1.​0/​
) applies to the data made available in this article, unless otherwise stated.