01.12.2011 | Case report | Ausgabe 1/2011 Open Access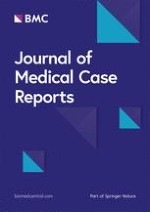 Tubercular tubo-ovarian cystic mass mimicking acute appendicitis: a case report
Zeitschrift:
Autoren:

Sami Akbulut, Zulfu Arikanoglu, Murat Basbug
Wichtige Hinweise
Electronic supplementary material
The online version of this article (doi:
10.​1186/​1752-1947-5-363
) contains supplementary material, which is available to authorized users.
Competing interests
The authors declare that they have no competing interests.
Authors' contributions
SA, ZA, and MB analyzed and interpreted the patient data regarding the tubercular tubo-ovarian mass and the surgical findings. All authors read and approved the final manuscript.
Abbreviations
EPTB
extrapulmonary tuberculosis
Introduction
Appendicitis is the most common general surgical emergency in developed countries. Because this condition can imitate other benign causes of acute right lower abdominal pain and is frequently mimicked by other pathologies, it presents a major diagnostic challenge to the clinician [
1
,
2
].
The worldwide incidence of histopathologically normal appendices in patients who present with clinically suspected appendicitis ranges from 7.7% to 54% [
3
]. In the majority of female patients with negative appendectomy results, one or more gynecological pathologies are detected by histopathology or laparotomy. A variety of gynecological disorders can mimic acute appendicitis, including pelvic inflammatory disease (PID), ovarian torsion, tubal ectopic pregnancy, hemorrhagic cysts, recent ovulation, tubo-ovarian masses, or infected cysts, as well as granulomatous causes such as actinomycosis or tuberculosis (TB) [
4
].
TB remains an important public health problem worldwide [
5
,
6
]. The most common form is pulmonary TB, but the disease can affect almost any part of the body, including the lymph nodes, gastrointestinal tract, bone, retroperitoneal organs, vertebral structures, central nervous system, and genital tract [
5
,
7
]. TB is divided into two clinical forms: pulmonary TB (PTB) and extrapulmonary TB (EPTB). In African and South Asian countries with a high incidence of HIV infection, a significant increase in EPTB cases, particularly abdominopelvic TB, has been observed [
8
]. Genital TB (GTB) is a form of EPTB that occurs more frequently in women, in whom it classically presents in association with infertility, menstrual irregularity, or abdominopelvic pain involving the right lower quadrant [
6
,
9
]. In this case report, we present the case of a patient with genital TB that clinically mimicked acute appendicitis and caused the development of a tubo-ovarian cystic mass.
Case presentation
A 17-year-old single Turkish woman presented to our emergency clinic with complaints of nausea, vomiting, and abdominal pain localized in the right lower quadrant. She stated that the localized pain had started three days prior to admission. The patient and her family had no history of TB infection or contact with patients with TB. Direct abdominal and chest radiography revealed no abnormality, and an abdominal ultrasound was also normal. Her pelvic examination, including pelvic ultrasonography, could not be performed because her bladder was empty. Her laboratory investigations produced the following results: blood urea nitrogen 35 mg/dL (5-23), creatinine 1.02 mg/dL (0,6-1,2), and C-reactive protein 12 mg/L(0-0,5). Her blood cell counts were leukocytes 12,200/μL (4-11000), hemoglobin 12.6 g/dL (12-16), and platelets 408,900/μL (150-450,000). Her other serum parameters were within normal limits. The results of an enzyme-linked immunoassay for HIV were negative. Urine analysis showed no pyuria or hematuria, and the results of a urine human chorionic gonadotropin assay were negative. The patient was placed under observation because her physical examination revealed no abnormality except right lower abdominal tenderness. A second abdominopelvic ultrasonogram was acquired during the observation period, and the results led to the suspicion of retrocecal appendicitis. Therefore, we performed surgery.
A McBurney's incision revealed a cystic mass approximately 15 cm × 6 cm in size with regular margins. The mass originated from the right tubo-ovarian complex. The patient's appendix was clinically normal (Figure
1
). The cystic mass was excised, and we preserved the tubo-ovarian complex and avoided the need for an appendectomy. When the cyst wall was cut, purulent liquid leaked through it. Microbiological evaluation of bacterial, fungal, and mycobacterial cultures and stains was not performed because the operation was performed over the weekend. The patient recovered fully and was discharged on the third post-operative day. Histopathological examination of the cystic mass revealed a granuloma with central caseating necrosis surrounded by epithelioid histiocytes (Figures
2
and
3
). During the post-operative examination, we found a blood β-human chorionic gonadotropin level of 0.5 IU/mL, tuberculin skin test (the purified protein derivative test) 31 mm, and negative acid-fast bacillus (AFB) results of the urine and sputum tests. After the diagnosis was histopathologically confirmed, the patient was started on two months of anti-TB therapy consisting of daily doses of isoniazid (400 mg), rifampicin (600 mg), pyrazinamide (2 g), and ethambutol (1000 mg), followed by four months of isoniazid and rifampicin therapy. The total treatment duration was six months, and the patient recovered completely and without complications.
×
×
×
Discussion
In conclusion, GTB must be taken into account in the differential diagnosis of acute appendicitis, particularly in women of reproductive age who live in or are descendants of families from countries where TB is endemic and who have a history of chronic pelvic pain, menstrual abnormalities, and infertility.
Consent
Written informed consent was obtained from the patient's mother for publication of this case report and any accompanying images. A copy of the written consent is available for review by the Editor-in-Chief of this journal.
This article is published under license to BioMed Central Ltd. This is an Open Access article distributed under the terms of the Creative Commons Attribution License (
http://​creativecommons.​org/​licenses/​by/​2.​0
), which permits unrestricted use, distribution, and reproduction in any medium, provided the original work is properly cited.
Competing interests
The authors declare that they have no competing interests.
Authors' contributions
SA, ZA, and MB analyzed and interpreted the patient data regarding the tubercular tubo-ovarian mass and the surgical findings. All authors read and approved the final manuscript.