01.12.2014 | Original Article | Ausgabe 6/2014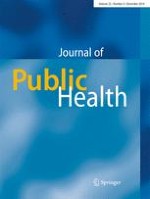 Tuberculosis in Antananarivo Renivohitra district of Madagascar: communication challenges
Zeitschrift:
Autoren:

Antso Hasina Raherinandrasana, Jean Claude Andrianirinarison, Elc Julio Rakotonirina, Barbara Vololonarivelo, Edwige Vololonarivelo, Rabenaivo Dorasse, Lantonirina Ravaoarisoa, Jean de Dieu Marie Rakotomanga
Abstract
Aim
To evaluate the population's knowledge about tuberculosis (TB) in Madagascar; assess the attitudes, risks, and misconceptions associated with the disease; evaluate the population's practices for disease management; propose recommendations to authorities based on the study.
Subjects and methods
A cross-sectional community-based study on the knowledge, attitude, and practice of TB was conducted in the District of Antananarivo Renivohitra, Madagascar, from July 2011 to June 2012. In total, 266 subjects were selected using cluster sampling.
Results
Overall, 83 % of respondents had a good knowledge about the transmission mode of TB and 71.4 % about its cause. However, 88.6 % had a poor knowledge about its signs and 90.5 % about disease prevention. Misconceptions regarding TB thus remain. TB was perceived as a fatal and frightening disease by 51.6 % of respondents, a troubling illness by 26.3 %, and a banal illness by 22 %. Respondent's determination to seek treatment at a health centre was high, representing 98.4 % of the study population.
Conclusion
In the District of Antananarivo Renivohitra, the population's knowledge about TB symptoms and prevention is poor. Our results can be used to improve communication strategies to fight against TB, and all stakeholders should work together to prevent this disease. Information, education, and communication are thus vital to facilitate the main goal: changing behaviour.