01.12.2017 | Case report | Ausgabe 1/2017 Open Access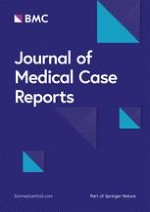 Tuberculous meningoencephalitis associated with brain tuberculomas during pregnancy: a case report
Zeitschrift:
Autoren:

Sadie Namani, Shemsedin Dreshaj, Arieta Zogaj Berisha
Abbreviations
HIV
Human immunodeficiency virus
IGRA
Interferon-gamma release assay
MRI
Magnetic resonance imaging
PCR
Polymerase chain reaction
Background
Case presentation
Patient information
A 25-year-old, Albanian, pregnant woman at 24 weeks of pregnancy, living in an urban area in Kosovo, was transferred from a Gynecology clinic because of vomiting, headache, decreased level of consciousness, and fever for last 2 weeks. She got pregnant with
in vitro
fertilization (IVF) after 6 years of marriage and during the pregnancy she had fatigue and vomiting frequently. She was treated earlier for urinary tract infection and salpingitis; a year ago she underwent surgery on her right fallopian tube (salpingostomy). She had no history of immunosuppression.
Clinical findings
At admission, she was subfebrile, exhausted, hypotensive, adynamic, and anemic (height 165 cm, weight 65 kg). No palpable lymph nodes were noted; she had normal heart sounds, lungs with normal breath sound, blood pressure was 90/40 mmHg, respiratory rate 32 breaths per minute, pulse 96 beats/minute, and meningeal signs were positive. On neurological examination, deep tendon reflexes were hyperactive in her lower extremities, with patella and ankle clonus, and positive Babinski sign on both sides.
Diagnostic focus and assessment
The differential diagnosis for intracerebral tuberculomas during pregnancy is not well established. A laboratory analysis showed moderate anemia (hemoglobin 11.0 g/dl), decreased level of total proteins (51 g/L), C-reactive protein (CRP) level reaching 52 mg/L, procalcitonin (PCT) level of 0.79, and erythrocyte sedimentation rate amounting to 95 mm/hour.
A TORCH (Toxoplasmosis, Other Agents, Rubella, Cytomegalovirus, and Herpes Simplex Virus)-panel test had negative results with negative immunoglobulins M and G for toxoplasmosis, cytomegalovirus (CMV), Epstein–Barr virus (EBV), rubella virus (RV), and herpes simplex virus 2 (HSV2). Human immunodeficiency virus (HIV) 1 and 2 antibodies were also negative, and
Brucella
and hepatitis serology testing were negative.
Blood cultures were sterile while urine cultures were positive (
Klebsiella
species). Cerebrospinal fluid (CSF) analysis showed mild mononuclear pleocytosis of 42 cells/mm
3
(mononuclear cells, 100%); glycorrhachia, 1.7 mmol/L; proteinorachia, 2.0 mmol/L; and CSF/blood glucose ratio, 0.44. A repeated lumbar puncture (LP) after 48 hours gave clear CSF, 165 cells/mm
3
(mononuclear cells 90%); glycorrhachia, 1.56 mmol/L; proteinorachia, 0.84 mmol/L; CSF/blood glucose ratio, 0.46 mmol/L; tuberculin skin test (TST) was negative; and microscopic examination for acid-fast bacilli of CSF and sputum revealed negative result.
Therapeutic focus and assessment
She was treated the first 4 days with ceftriaxone and anti-edematous treatment (mannitol and dexamethasone). Due to a worsening of her clinical presentation with signs and symptoms of meningoencephalitis, duration of illness >2 weeks, medical history, origin from a region of high prevalence of TB, CSF criteria, and high level of interferon-gamma release assay (IGRA; 197.7 pg/ml; sent abroad) in CSF, treatment with four antituberculous agents was initiated: rifampicin (R), isoniazid (H), pyrazinamide (Z), and ethambutol (E). During the first 3 weeks of treatment she had decreased level of consciousness from somnolence to soporous state, and she manifested right hemiparesis and generalized recurrent seizures; an electroencephalogram (EEG) showed pathological findings.
After 3 weeks of treatment, at 27 weeks of pregnancy, she got vaginal bleeding and uterine contractions and after consulting gynecologist, underwent cesarean section. The preterm underweighted twins died: female baby 700 grams with Apgar score 2 died within 24 hours and male baby 800 grams with Apgar score 4 who was transferred outside the country died within 72 hours. We did not get any results of performed autopsy. The mother was then transferred back to the Infectious Diseases Clinic in Prishtina to continue the treatment. Postnatally, chest radiography was done which revealed no pathological findings while an ultrasound of her abdomen was normal. A MRI of her brain, realized 4 weeks after admission at the private clinic, showed multiple hyperintense nodular lesions suspected for intracerebral tuberculomas, brain edema in parieto-temporo-occipital region on left side, augmented subarachnoid space, and ischemia at left parietal lobe suggesting meningoencephalitis. Her cortical-subcortical fronto-temporo-parietal regions were involved bilaterally, and there was a white mass with predominance in parieto-temporo-occipital regions on left side, bilateral cerebellar hemispheres, pons, mesencephalon, and dilatation of subarachnoidal space (Fig.
1
).
×
After 6 weeks, cultures of CSF and sputum on Lowenstein were negative, whereas cultures of urine on Lowenstein were positive three times and a sensitivity test showed sensitivity to all tested antituberculous agents: R, H, E, Z, and streptomycin (S). Elevated pleocytosis in CSF lasted for 53 days, hypoglycorrhachia for 26 days, and elevated proteins for 70 days. A repeated MRI of her brain after 3 months showed regression of the size and number of tuberculomas (Fig.
2
).
×
She was treated for 12 months with antituberculous agents with no sequelae. After 2 years she got pregnant again by IVF and has twin girls.
Discussion
In the first decade after the war in Kosovo, the incidence of TBM decreased by 50% with a further decrease in the last few years. As noted before, young people less than 18 years of age are the age group most affected by TBM (64% in 2014). Kosovo is ranked among European countries with a high prevalence of TB. Based on published data, over the last few years there have been approximately 900 cases annually. With the availability of MRI in the last few years, brain tuberculomas are more frequently seen in patients with TBM, but its occurrence during pregnancy was not documented earlier at our clinical center.
Five cases (71%) presented the disease during the third trimester of pregnancy, while two cases presented the disease during the second trimester, including our patient. Most cases (71%), including our patient, manifested the disease during their first pregnancy. Four patients (57%) had normal delivery while three patients underwent urgent caesarean section, including our patient. All neonates survived, except the underweight twins of our patient with low Apgar scores (700 g and 800 g).
Sputum with CSF microscopic examination for acid-fast bacilli, negative TST, and chest X-ray did not help much, whereas clinical presentation, cytobiochemical changes in CSF, IGRA, and brain MRI were crucial for diagnosing TBM during pregnancy.
Conclusions
In countries with a high prevalence of TB, screening for CNS TB should be considered in the differential diagnosis of meningitis in pregnancy. Cerebral imaging is essential to establish the diagnosis of brain tuberculomas in such a case of suspected tuberculous meningoencephalitis during pregnancy.
Acknowledgements
Staff of the Infectious Diseases Clinic at the University Clinical Center of Kosovo for their help in data collecting for publication.
Funding
The authors declare that they have no funding source.
Availability of data and materials
Not applicable.
Authors' contributions
All authors have read and approved the final manuscript. First author: made primary contributions to the design of the study, data collecting, comparing the results with other publications and drafted manuscript. Second and third author: treated the patient and contributed to the additional correction and design of the study. No particular funding sources for any of the authors.
Competing interests
The authors declare that they have no competing interests.
Consent for publication
Written informed consent was obtained from the patient for publication of this case report and any accompanying images. A copy of the written consent is available for review by the Editor-in-Chief of this journal.
Ethics approval and consent to participate
A statement for ethical approval was obtained from ethical committee of Medical Faculty, University of Prishtina (No. 4663).
Publisher's Note
Springer Nature remains neutral with regard to jurisdictional claims in published maps and institutional affiliations.
Open Access
This article is distributed under the terms of the Creative Commons Attribution 4.0 International License (
http://​creativecommons.​org/​licenses/​by/​4.​0/​
), which permits unrestricted use, distribution, and reproduction in any medium, provided you give appropriate credit to the original author(s) and the source, provide a link to the Creative Commons license, and indicate if changes were made. The Creative Commons Public Domain Dedication waiver (
http://​creativecommons.​org/​publicdomain/​zero/​1.​0/​
) applies to the data made available in this article, unless otherwise stated.