01.12.2017 | Research | Ausgabe 1/2017 Open Access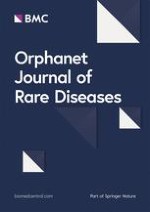 TuberOus SClerosis registry to increase disease Awareness (TOSCA) – baseline data on 2093 patients
Zeitschrift:
Autoren:

John C. Kingswood, Guillaume B. d'Augères, Elena Belousova, José C. Ferreira, Tom Carter, Ramon Castellana, Vincent Cottin, Paolo Curatolo, Maria Dahlin, Petrus J. de Vries, Martha Feucht, Carla Fladrowski, Gabriella Gislimberti, Christoph Hertzberg, Sergiusz Jozwiak, John A. Lawson, Alfons Macaya, Rima Nabbout, Finbar O'Callaghan, Mirjana P. Benedik, Jiong Qin, Ruben Marques, Valentin Sander, Matthias Sauter, Yukitoshi Takahashi, Renaud Touraine, Sotiris Youroukos, Bernard Zonnenberg, Anna C. Jansen, on behalf of TOSCA consortium and TOSCA investigators
Wichtige Hinweise
Electronic supplementary material
The online version of this article (doi:
10.​1186/​s13023-016-0553-5
) contains supplementary material, which is available to authorized users.
Abstract
Background
Tuberous sclerosis complex (TSC) is a rare autosomal dominant genetic disorder. Many gaps remain in the understanding of TSC because of the complexity in clinical presentation. The
T
uber
O
us
SC
lerosis registry to increase disease
A
wareness (TOSCA) is an international disease registry designed to address knowledge gaps in the natural history and management of TSC. Here, we present the baseline data of TOSCA cohort.
Methods
Patients of any age diagnosed with TSC, having a documented visit for TSC within the preceding 12 months, or newly diagnosed individuals were included. The registry includes a "core" section designed to record detailed background information on each patient including disease manifestations, interventions, and outcomes collected at baseline and updated annually. "Subsections" of the registry recorded additional data related to specific features of TSC.
Results
Baseline "core" data from 2093 patients enrolled from 170 sites across 31 countries were available at the cut-off date September 30, 2014. Median age of patients at enrollment was 13 years (range, 0–71) and at diagnosis of TSC was 1 year (range, 0–69). The occurrence rates of major manifestations of TSC included – cortical tubers (82.2%), subependymal nodules (78.2%), subependymal giant cell astrocytomas (24.4%), renal angiomyolipomas (47.2%), lymphangioleiomyomatosis (6.9%), cardiac rhabdomyomas (34.3%), facial angiofibromas (57.3%), forehead plaque (14.1%), ≥ 3 hypomelanotic macules (66.8%), and shagreen patches (27.4%). Epilepsy was reported in 1748 (83.5%) patients, of which 1372 were diagnosed at ≤ 2 years (78%). Intellectual disability was identified in 451 (54.9%) patients of those assessed. TSC-associated neuropsychiatric disorders (TAND) were diagnosed late, and not evaluated in 30–50% of patients.
Conclusion
TOSCA is the largest clinical case series of TSC to date. It provided a detailed description of the disease trajectory with increased awareness of various TSC manifestations. The rates of different features of TSC reported here reflect the age range and referral patterns of clinics contributing patients to the cohort. Documentation of TAND and LAM was poor. A widespread adoption of the international TSC assessment and treatment guidelines, including use of the TAND Checklist, could improve surveillance. The registry provides valuable insights into the necessity for monitoring, timing, and indications for the treatment of TSC.