23.05.2018 | Pictorial essay | Ausgabe 7/2018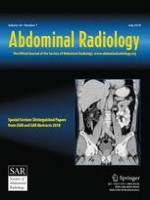 Tubulocystic renal cell carcinoma: a review of literature focused on radiological findings for differential diagnosis
Zeitschrift:
Autoren:

Yukiko Honda, Yuko Nakamura, Keisuke Goto, Hiroaki Terada, Kazuhiro Sentani, Wataru Yasui, Yohei Sekino, Tetsutaro Hayashi, Jun Teishima, Akio Matsubara, Motonori Akagi, Tomoyo Fuji, Yasutaka Baba, Makoto Iida, Kazuo Awai
Wichtige Hinweise
The content of this paper was presented at the 31st Meeting of Japanese Society of Abdominal Radiology 2017.
Because tubulocystic renal cell carcinoma is a rare tumor, one case has already been published as a case report in the Japanese Journal of Radiology.
Maeda Y et al. (2016) A case of tubulocystic carcinoma of the kidney with aggressive features. Japanese journal of radiology 34 (4):307–311. doi:10.1007/s11604-016-0525-7.
This review differs in content from the formerly mentioned report, therefore we used other images of the same case.
Abstract
Tubulocystic renal cell carcinoma (TC-RCC) has been classified as an independent subtype according to the 2016 World Health Organization (WHO) classification. It is a rare subtype that predominantly affects men. Although few in number, radiological imaging reports have suggested that TC-RCC is characterized by multilocular cystic lesions, which are categorized as the Bosniak classification II–IV, with signature pathological characteristics comprising numerous small cysts or a tubular structure. The Bosniak classification system facilitates patient management; however, the differentiation of cystic tumors exhibiting similar imaging findings remains impossible; in fact, the differentiation of multilocular cystic RCC, adult cystic nephroma, and mixed epithelial and stromal tumor remains challenging. This review aims to discuss TC-RCC with a focus on implications of radiological findings in the differential diagnosis of TC-RCC.