28.05.2018 | Original Article – Clinical Oncology | Ausgabe 8/2018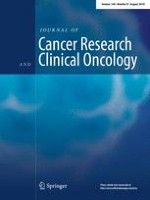 Tumor growth patterns of MGMT-non-methylated glioblastoma in the randomized GLARIUS trial
Zeitschrift:
Autoren:

Christina Schaub, Sied Kebir, Nina Junold, Elke Hattingen, Niklas Schäfer, Joachim P. Steinbach, Astrid Weyerbrock, Peter Hau, Roland Goldbrunner, Michael Niessen, Frederic Mack, Moritz Stuplich, Theophilos Tzaridis, Oliver Bähr, Rolf-Dieter Kortmann, Uwe Schlegel, Friederike Schmidt-Graf, Veit Rohde, Christian Braun, Mathias Hänel, Michael Sabel, Rüdiger Gerlach, Dietmar Krex, Claus Belka, Hartmut Vatter, Martin Proescholdt, Ulrich Herrlinger, Martin Glas
Wichtige Hinweise
Christina Schaub, Sied Kebir, Nina Junold, Ulrich Herrlinger and Martin Glas contributed equally.
Abstract
Background
We evaluated patterns of tumor growth in patients with newly diagnosed MGMT-non-methylated glioblastoma who were assigned to undergo radiotherapy in conjunction with bevacizumab/irinotecan (BEV/IRI) or standard temozolomide (TMZ) within the randomized phase II GLARIUS trial.
Methods
In 142 patients (94 BEV/IRI, 48 TMZ), we reviewed magnetic resonance imaging scans at baseline and first tumor recurrence. Based on contrast-enhanced T1-weighted and fluid-attenuated inversion recovery images, we assessed tumor growth patterns and tumor invasiveness. Tumor growth patterns were classified as either multifocal or local at baseline and recurrence; at first recurrence, we additionally assessed whether distant lesions appeared. Invasiveness was determined as either diffuse or non-diffuse. Associations with treatment arms were calculated using Fisher's exact test.
Results
At baseline, 115 of 142 evaluable patients (81%) had a locally confined tumor. Between treatment arms, there was no significant difference in the fraction of tumors that changed from an initially local tumor growth pattern to a multifocal pattern (12 and 13%,
p
 = 0.55). Distant lesions appeared in 17% (BEV/IRI) and 13% (TMZ) of patients (
p
 = 0.69). 15% of patients in the BEV/IRI arm and 8% in the TMZ arm developed a diffuse growth pattern from an initially non-diffuse pattern (
p
 = 0.42).
Conclusions
The tumor growth and invasiveness patterns do not differ between BEV/IRI and TMZ-treated MGMT-non-methylated glioblastoma patients in the GLARIUS trial. BEV/IRI was not associated with an increased rate of multifocal, distant, or highly invasive tumors at the time of recurrence.