01.12.2017 | Review | Ausgabe 1/2017 Open Access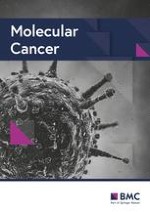 T

umor-

I

nitiating

C

ells: a cri

TIC

al review of isolation approaches and new challenges in targeting strategies
Zeitschrift:
Autoren:

Komal Qureshi-Baig, Pit Ullmann, Serge Haan, Elisabeth Letellier
Abbreviations
ABCG2
ATP binding cassette subfamily G member 2
ALDH1
Aldehyde dehydrogenase 1 (ALDH1)
APC
Adenomatous polyposis coli
BMI-1
B lymphoma Mo-MLV insertion region 1 homolog polycomb ring finger
BMP4
Bone morphogenetic protein 4
DLL4
Delta-like canonical Notch ligand 4
EMT
Epithelial to mesenchymal transition
EpCAM/ESA
Epithelial-specific antigen
HIF-1α
Hypoxia-inducible factor 1α
iNOS
Inducible nitric oxide synthase
PDK1
Pyruvate dehydrogenase kinase 1
PRC1
Polycomb regulatory complex 1 (PRC1)
STAT3
Signal Transducer and Activator of Transcription 3
TGF-β
transforming growth factor-β
Background
Colorectal cancer (CRC) is one of the most frequently diagnosed cancer types for both men and women and is the third most common cause of cancer mortality in Western countries [
1
]. Specific alterations in oncogenes and tumor suppressors are associated with the stepwise progression from normal colon mucosa to carcinoma, resulting in a growth and survival advantage of the affected cells. Notably, loss of function mutations in the adenomatous polyposis coli (
APC
) tumor suppressor gene on chromosome 5q21 are known to be among the earliest genetic events to take place in CRC [
2
]. In fact, loss of
APC
leads to a rapid Wnt deregulation and acquisition of a progenitor cell phenotype in the colonic crypt [
3
]. Although considerable advances have been made on the molecular mechanisms underlying CRC, it is still a matter of debate which mechanisms determine CRC initiation. The discovery of stem cells in colonic crypts supports the hypothesis that normal stem cells might accumulate tumorigenic mutations promoting malignant transformation, especially due to their long lifespan and their capacity to self-renew. In three break-through studies that represent a paradigm shift in cancer biology, cell lineage tracing within growing tumors revealed the presence of a tumor-driving subpopulation of cells in glioblastoma [
4
], squamous skin tumors [
5
] and intestinal adenomas [
6
]. In particular, Schepers and colleagues showed that cells positive for leucine-rich repeat-containing G-protein coupled receptor 5 (Lgr5) - a known Wnt target and marker for normal intestinal stem cells [
7
] - not only contribute to the initial stages of adenoma growth, but also display multipotent stem cell traits as they are able to generate all of the other cell types present in colon adenomas [
6
]. By tracing the contribution of individual cancer cells to tumor formation, these three studies provide direct experimental evidence supporting the hypothesis that some tumors contain a small population of cells displaying self-renewal and tumor initiation power, along a vast majority of cells that are non-tumorigenic. This subset of cells is referred to as tumor-initiating cells (TICs), also known as cancer stem cells (CSCs) or CSC-like cells, and can give rise to a heterogeneous population of cells similar in composition to the tumor of origin [
8
]. Many groups use the term "CSC" that reflects the existence of a cell at the apex of a differentiation hierarchy within tumors. We prefer to apply the term "TIC", which represents a functional definition as it refers to the capacity of these cancer cells to induce tumor formation in xenotransplantation studies. The clinical relevance of TICs is further corroborated by recent molecular classification studies, demonstrating that the expression of stem cell and mesenchymal genes denotes a CRC subtype associated with very poor prognosis [
9
–
14
].
Despite considerable advances in TIC biology, the isolation and identification of TICs still remain incompletely established. While some studies focus on an antigenic approach, others rely more on functional characteristics that define TICs. In this review, we will comment on the latest developments regarding isolation of colon TICs with focus on tumorspheres, also called spheroid culture (SC) models, derived from patients and cell lines. Additionally, we will discuss different culturing conditions (i.e. serum-containing conditions leading to adherent cultures and serum-deprived conditions favoring growth as spheroids, as well as medium switch experiments) in regard to the maintenance of TIC traits and possible TIC enrichment. Next, key signaling pathways and metabolic mechanisms that are involved in TIC regulation as well as their current clinical implications will be considered. Finally, we will highlight inter- and intra-tumor heterogeneity in cancer and especially in the TIC compartment and speculate how these new findings may impact the development of new TIC-targeting strategies.
Isolation and identification of TICs
TICs were first described during the 1990's in studies of leukemia stem cells [
15
,
16
]. A few years later, TICs were also identified in solid tumors of different origins, among which breast [
17
], skin [
18
], brain [
19
,
20
], pancreas [
21
], lung [
22
] and colon [
23
,
24
]. Controversies still exist concerning the number of TICs within tumors. Indeed, the true frequency of TICs in most human tumors might be underrated due to obstacles encountered in the different techniques, one of the hurdles being the genetic background of the immune-deficient mouse strain used for xenotransplantation assays [
25
]. Nevertheless, TICs incline to be relatively infrequent in solid tumors [
26
,
27
], although several exceptions exist, such as melanomas in which TICs reach up to 25% of the tumor population [
25
]. Within the TIC sub-compartment, the number of tumorigenic cells substantially varies between patients of the same tumor type [
27
]. Noteworthy, extensive stromal-niche interactions are critical for TIC survival and growth [
28
]. Thus, to accurately determine TIC frequency in human tumors, more "humanized" models replicating the tumor's natural microenvironment - i.e. including a stromal and immune cell compartment - should be employed in the future [
29
].
TICs are defined by their self-renewal, differentiation and tumor-initiation capacities. They have been described to propagate tumors that are capable of recapitulating the heterogeneity of primary tumors [
23
,
24
]. Different approaches are used to isolate TICs and while some of them are based on the expression pattern of cell surface markers, others rely more on the functional aspects of TICs. Most importantly, after isolation of the potential TIC-containing population, TICs are ultimately functionally identified based on their self-renewal potential, which is one of the main properties characterizing these cells. These assays have been extensively described [
30
,
31
] and are not the focus of this review. Briefly, the self-renewal capacity is assessed in vitro by performing sphere formation assays under clonal conditions (including single-cell assays) and in vivo by transplantation experiments in mice. In the latter setting, limiting dilution assays (LDA) with serial tumor transplantation and subsequent tumor formation in secondary recipients are considered the gold standard in TIC research as they assess the most important biological trait of TICs, i.e. in vivo self-renewal.
The antigenic approach
The antigenic approach takes advantage of a variety of cell surface markers, such as prominin-1 (commonly known as CD133), CD44, CD24, epithelial-specific antigen (EpCAM/ESA), CD166, CD29 and CD49f, or a combination of them (Tables
1
and
2
) [
7
,
23
,
24
,
32
–
39
]. Tables
1
and
2
summarize surface markers, either alone or in combination, used to identify colon TICs and illustrate their relevance based on the observed self-renewal capacity of TICs upon sorting for the marker of interest. Examples for markers that gave controversial results are CD133 and Lgr5 (Table
1
). Over the last years, many reports have challenged the view of CD133 being a universal TIC marker [
40
–
43
]. Importantly, several in vivo studies show that CD133
+
and CD133
−
cells form tumors with similar efficiency [
40
,
43
,
44
]. Over the last years, Lgr5 has been revealed as a marker for normal and cancerous intestinal stem cells [
7
,
45
]. Notwithstanding, the role of Lgr5 in CRC remains indistinct; while some studies suggest that intestinal tumors arise from Lgr5-positive cells [
6
,
45
,
46
], Walker and colleagues showed that suppression of Lgr5 expression enhances tumorigenesis [
47
].
Table 1
Colon TIC markers
assessment of self-renewal

cellular system

Marker

Known function

References

In vitro

In vivo

cell lines

patients

CD133

Regulation of cell membrane topology

[Ricci-Vitiani et al., 2007]

2

[Vermeulen et al., 2008]

4

[Haraguchi et al., 2008]

5

[Shmelkov et al., 2008]

8

[Dittfeld et al., 2009]

9

[Qureshi-Baig et al., 2016]

12

LGR5

Cell adhesion, intestinal stem cell marker

CD44

Cell adhesion and migration, cell-cell interactions, cell signaling, leukocyte attachment and rolling

[Vermeulen et al., 2008]

2

[Haraguchi et al., 2008]

4

CD44v6

CD44 variant isoform, cell migration and invasion

CD24

B cell proliferation and maturation

[Vermeulen et al., 2008]

1

CD166

Cell adhesion and cell-cell interactions

EpCAM

Cell adhesion, migration, signaling

EphB2

Position of the different cell types in the crypts

[Merlos-Suárez et al., 2011]

1
Table 2
Colon TIC marker combinations
assessment of self-renewal

cellular system

Marker combinations

References

In vitro

In vivo

cell lines

patients

mouse

CD166 +/CD44 +

EpCAM high/CD44 +

CD24 high/CD29 +

[Ghazvini et al., 2013]

1

CD133 +/CD44 +

[Haraguchi et al., 2008]

1

CD133+/CD49f+

[Haraguchi et al., 2013]

1

CD44+/CD49f+

CD24 +/CD44 +

CD44 +/CD133 −

CD133 +/CD24 +

[Vermeulen et al., 2008]

1

CD133+/CD24-

[Vermeulen et al., 2008]

1

[Haraguchi et al., 2008]

2

CD133+/CD44-

CD133+/CD44+

CD133+/CD166-

CD133+/CD166+

CD166+/CD44+

CD24+/CD44+

CD44+/CD166+/EpCAMlow

CD44+/CD166+/EpCAMhigh

CD133+/CD26+/CD44+

CD133+/CD26+/CD44-

CD133+/CD26-/CD44+

CD133+/CD26-/CD44-

CD133-/CD26+/CD44+

CD133-/CD26+/CD44-

CD133-/CD26-/CD44+

CD133-/CD26-/CD44-
Notably, culturing conditions including cell density and passage number as well as extrinsic factors are suggested to largely influence surface marker expression ([
48
–
51
] and cf. next paragraph). Furthermore, there is a large inter-patient variability in the expression of surface markers, with no or small expression to high positivity for the same marker across patients [
41
,
42
,
52
–
54
]. This limited overlap between the phenotype of TICs isolated from different patients of the same tumor type most probably reflects the presence of heterogeneous and biologically distinct TIC pools, which might render the identification of TICs difficult and biased. Additionally, as TICs represent a highly dynamic population, it will be important to better understand the influence of the microenvironment on the antigenic profile of TICs. This inter- and intra-tumor heterogeneity as well as its impact on TIC marker expression will further be discussed in the last paragraph of this review.
Several cell surface markers including CD44, CD166 and EpCAM, are players in cell adhesion and attachment, and thus have been thought to favor the survival of tumor cells within the microenvironment [
32
]. As these markers are not exclusively expressed by TICs [
55
], but also by other cells, among which stromal cells, their use to isolate TICs from tumor tissue is precarious. Very recently, CD166 was shown to be expressed in stromal progenitor cells within the hematopoietic niche [
56
]. Furthermore, CD44, which is described to mark colon TICs, includes multiple splice variants. Original TIC isolations were performed by using pan-CD44 antibodies [
32
], but recently it was shown that full length CD44 is more widely expressed, and that TICs are better identified with the CD44v6 splice variant [
57
]. Overall, the use of surface markers in the aim to identify and isolate colon TICs remains delicate.
The functional approaches
The influence of different culture conditions on TIC traits
TIC-targeting approaches and clinical implications
Inter- and intra-tumor heterogeneity: future challenges for TIC-specific treatments
Recent large-scale sequencing studies have revealed different molecular subtypes of CRC [
9
–
14
], demonstrating that it is not a uniform disease but a plethora of disparate tumor types and subtypes. This inter-tumoral heterogeneity, consisting of differences between individual patients, presents a significant hurdle to the eradication of cancer and led to the implementation of personalised medicine in the clinics. Besides this interpatient variability, intra-tumor heterogeneity denotes the coexistence of different populations of tumor cells that diverge in their genetic, phenotypic or behavioral characteristics within a given primary tumor [
145
]. Genetic, epigenetic as well as microenvironmental cues, which favor the growth of some cancer cells and the attrition of others, are thought to be the origin of such intra-tumor heterogeneity [
145
,
146
]. Furthermore, spatial and temporal heterogeneity are common attributes in CRC and other tumor types. Thus, biopsies of small tumor pieces may not reflect the wide range of alterations found in the tumor as a whole. Altogether, inter- and intra-tumor heterogeneity is thought to largely contribute to therapy failure and disease progression [
145
]. Latest molecular biology tools, such as barcode sequencing, single cell analysis, lineage tracing, or whole-genome sequencing might help to face the challenge of dissecting both inter- and intratumor heterogeneity.
Recent studies have illustrated that clonal evolution is also occurring within the TIC population itself, with tremendous regulatory impact on self-renewal and tumor-initiation potential [
147
]. Indeed, mutational analysis of lymphoid leukemia cells demonstrated that individual tumors contain subclones that are genetically different but evolutionarily related [
148
]. Accordingly, therapeutic targeting of TICs turns out to be more challenging than was initially anticipated, as TICs are not static and genetically homogeneous entities. Along this line, Dieter and colleagues have shown the existence of three different types of TICs in primary human CRC, among which a rare subset of cells that maintain tumor growth in serial transplantation, one subset with limited self-renewal capacity and finally a more latent subtype that is only present in secondary recipients [
52
]. Additionally, by using lentiviral lineage tracing in combination with in vivo serial transplantation experiments, Kreso and colleagues could detect functional diversity among colon TICs that were derived from the same subclone: while some cells displayed long-term self-renewal potential and were detected in every transplant, others were less persistent, losing their proliferative capacity over time [
149
]. Most intriguing was probably the existence of a dormant subclonal species that became dominant following chemotherapy [
149
]. It will now be important to link these different functional phenotypes to a genomic and transcriptomic profile. High throughput sequencing platforms will for instance allow clinicians to better understand patient tumors and thus elaborate improved treatment approaches that aim exploiting subclonal-specific alterations. In this regard the organoid technology is of great interest, as recent studies have shown that organoids 1) recapitulate the properties of the original tumor 2) are amenable to high-throughput drug screening and most importantly 3) allow for the implementation of personalized medicine [
103
]. Indeed, multiple organoid cultures can be established from single cells of individual tumor clonal lineages present in the primary tumor [
150
]. Outgrowing clones may thereby be identified by applying sequencing approaches and treated in vitro with both standard cancer therapies and therapies tailored to the specific genetic program [
147
]. In the future, this strategy may demonstrate whether individual clones are sensitive to given therapies and could allow clinicians to decide for appropriate follow-up treatment regimens. Such approaches might help to identify and successfully eradicate the totality of pertinent tumor clones, ultimately preventing disease progression and relapse.
Additionally, inter- and intra-tumor heterogeneity arises from the high plasticity of TICs. Indeed, TIC traits, among which the expression of TIC-specific markers, are thought to be reversible. Flow cytometry experiments coupled to Markov model predictions have highlighted that different purified breast cancer cell populations display extensive plasticity and always return to a phenotypic proportion equilibrium over time [
151
]. In addition, epigenetic changes could directly influence marker expression [
49
]. Future studies that systematically address the expression of TIC markers, combined with genomic and transcriptomic profile analysis of single cells will help elucidating the controversies regarding TIC markers. Importantly, recent evidence shows that TICs are highly influenced by the tumor microenvironment [
28
]. Stromal cell-secreted factors, such as Wnt cascade modulators and TGF-β signals have been shown to restore the TIC phenotype in more differentiated tumor cells [
111
], thereby increasing TIC frequency [
10
], both in vitro and in vivo. These observations are in line with the dynamic model, which suggests that TIC features might get restored in a subset of cells after specific TIC eradication, contributing to disease relapse when therapy is arrested [
112
]. A better understanding of how TICs interact with their microenvironment will thus be crucial for the successful development of TIC-specific therapies.
Conclusion
Enormous progresses have been made over the last years in TIC research. However, comprehensive understanding on how to specifically isolate and target the aggressive subset of TICs still needs to improve. Many studies have supported spheroid cultures to be an appropriate mean to enrich for a cell population that displays TIC characteristics. Notwithstanding, xenotransplantation of cells performed in limiting dilution conditions and subsequent tumor formation after serial transplantation in multiple secondary recipients is considered the gold standard in TIC research. Recent evidence illustrates patient-derived spheroid cultures to be a better model to test for CRC therapies than adherent counterparts, not because of enhanced self-renewal potential, but principally because these cultures successfully maintain their resistance to chemotherapeutics. Importantly, several recent studies have unraveled a high plasticity of TICs, a phenomenon that needs to be closely examined for the development of TIC-targeted therapies. Additionally, the metabolic identity of TICs is an emerging field of research and targeting TIC metabolism seems to represent a promising approach for the development of new TIC-specific treatments. To conclude, the development of strategies that exploit the unique characteristics of TICs, without neglecting the impact of inter- and intra-tumor heterogeneity, will hopefully result in the specific eradication of TICs, thereby eventually preventing disease progression and recurrence. Lastly, it is important to mention that the CSC and clonal evolution concepts are not, as initially suggested, mutually exclusive and thus efficient therapies will include targeting both populations, the fast-diving tumor cells as well as TICs.
Acknowledgements
The authors thank the Fondation Cancer (grant F1R-LSC-PAU-13HY2C), the Fonds National de la Recherche (FNR) Luxembourg (support of Pit Ullmann and Komal Qureshi-Baig under the AFR grant scheme) and the Fondation du Pélican de Mie and Pierre Hippert-Faber under the aegis of the Fondation de Luxembourg for their financial support.
Funding
Fondation Cancer, Fonds National de la Recherche (FNR) Luxembourg and the Fondation du Pélican de Mie and Pierre Hippert-Faber
Availability of data and material
Not applicable.
Authors' contributions
KQB contributed to the collection of data, preparation of the figure and tables, and writing of the manuscript; PU contributed to the collection of data and writing of individual sections of the manuscript; KQB, PU, SH and EL revised and expanded the manuscript. EL conceived the structure of this manuscript and supervised the review. KQB, PU, SH and EL revised the manuscript. EL conceived the structure of this manuscript, supervised and expanded the review. All authors read and approved the final manuscript.
Competing interests
The authors declare that they have no competing interests.
Consent for publication
All the authors of this review give their consent for publication.
Ethics approval and consent to participate
Not applicable.
Open Access
This article is distributed under the terms of the Creative Commons Attribution 4.0 International License (
http://​creativecommons.​org/​licenses/​by/​4.​0/​
), which permits unrestricted use, distribution, and reproduction in any medium, provided you give appropriate credit to the original author(s) and the source, provide a link to the Creative Commons license, and indicate if changes were made. The Creative Commons Public Domain Dedication waiver (
http://​creativecommons.​org/​publicdomain/​zero/​1.​0/​
) applies to the data made available in this article, unless otherwise stated.