10.02.2020 | Original Article | Ausgabe 4/2020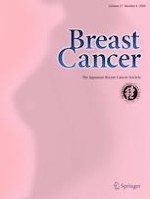 Tumor markers CA15-3, CA125, CEA and breast cancer survival by molecular subtype: a cohort study
Zeitschrift:
Autoren:

Junxian Li, Luyang Liu, Ziwei Feng, Xin Wang, Yubei Huang, Hongji Dai, Liwen Zhang, Fangfang Song, Dezheng Wang, Pengyu Zhang, Baoshan Ma, Haixin Li, Hong Zheng, Fengju Song, Kexin Chen
Wichtige Hinweise
Electronic supplementary material
Publisher's Note
Springer Nature remains neutral with regard to jurisdictional claims in published maps and institutional affiliations.
Abstract
Background
The burden of breast cancer has grown rapidly in China during recent decades. However, the association between tumor markers (CA15-3, CA125, and CEA) and breast cancer survival among certain molecular subtypes is unclear; we described this association in a large, population-based study.
Methods
We conducted a cohort study including 10,836 women according to the Tianjin Breast Cancer Cases Cohort. Demographic and epidemiologic data were collected by a structured face-to-face questionnaire. Clinico-pathological parameters were abstracted from medical records, and follow-up information was obtained once a year by telephone. The primary endpoints were breast cancer-specific survival (BCSS) and disease-free survival (DFS). We utilized the Cox proportional hazard model to calculate hazard ratios (HRs) and 95% confidence intervals (CI).
Results
Among all patients, elevated CA15-3 and CEA exhibited consistently and statistically significant reduced BCSS compared with normal ones (CA15-3: HR 1.54, 95% CI 1.01–2.34; CEA: HR 2.45, 95% CI 1.40–4.30). Similar patterns of association were observed for DFS (CA15-3: HR 2.09, 95% CI 1.44–3.02; CEA: HR 2.71, 95% CI 1.71–4.27). Moreover, in luminal A subtype, high CA15-3 and CEA levels were associated with decreased BCSS (CA15-3: HR 4.47, 95% CI 2.04–9.81; CEA: HR 3.79, 95% CI 1.68–8.55) and DFS (CA15-3: HR 4.06, 95% CI 2.29–7.18, CEA: HR 3.41, 95% CI 1.75–6.64). In basal-like subtype, elevated CEA conferred reduction for BCSS (HR 5.13, 95% CI 1.65–15.9). However, no association was observed between CA125 and breast cancer outcome.
Conclusions
Preoperative CA15-3 and CEA levels differ in breast cancer molecular subtypes and yield strong prognostic information in Chinese women with breast cancer. Measuring CA15-3 and CEA levels before surgery may have the potential in predicting breast cancer survival and offering patients' personalized treatment strategy among luminal A and basal-like subtypes.