01.12.2017 | Research | Ausgabe 1/2017 Open Access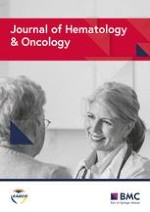 Tumor-recruited M2 macrophages promote gastric and breast cancer metastasis via M2 macrophage-secreted CHI3L1 protein
Zeitschrift:
Autoren:

Yulei Chen, Siyuan Zhang, Qizhi Wang, Xiaobo Zhang
Wichtige Hinweise
Electronic supplementary material
The online version of this article (doi:
10.​1186/​s13045-017-0408-0
) contains supplementary material, which is available to authorized users.
Background
Cell migration is an essential process for the development and maintenance of multicellular organisms and is defined as the orchestrated movement of cells in a particular direction to a specific location [
1
]. To migrate, a cell must modify its shape to be able to interact with the surrounding tissue structures. Therefore, the extracellular matrix (ECM) serves as a substrate as well as a barrier for an advancing cell body [
2
]. Cell migration is an integrated, multistep process that contributes to tissue repair and regeneration, orchestrates embryonic morphogenesis and drives disease progression. During cell migration, the moving cell first becomes polarized and elongated. A pseudopod is then formed, which attaches to the ECM substrate. Subsequently, regions of the leading edge contract, thereby generating a traction force that leads to the gradual forward gliding of the cell body and its trailing edge. Metastasis, which involves the migration of cancer cells from the primary tumor to a distant organ or tissue, is the most frequent cause of death for patients with cancer. Cancer cells utilize cell migration mechanisms that are similar to those exhibited by non-neoplastic cells during physiological processes [
2
]. The steps of metastasis include tumor cell adhesion to and invasion of basement membranes and the surrounding tissue, intravasation into blood vessels, survival in the bloodstream, extravasation, and growth at different organ sites [
2
]. Only a small proportion of tumor cells invade and disseminate. However, the molecular mechanisms underlying metastasis are still poorly understood because of their apparent complexity.
Tumor progression is controlled by crosstalk between cancer cells and other cell types within the tumor microenvironment. The tumor microenvironment includes proliferating tumor cells, blood vessels, the tumor stroma, inflammatory cells, and a variety of associated tissue-type cells. This unique environment forms over the course of tumor progression due to the interactions of tumor cells with the host. This microenvironment is shaped and dominated by the tumor, which orchestrates molecular and cellular events occurring in the surrounding tissues. Although various immune effector cells are recruited to the tumor site, their anti-tumor functions are downregulated, largely in response to tumor-derived signals. Immune effector cells in the tumor microenvironment not only fail to perform anti-tumor functions but are co-opted to promote tumor growth [
3
]. Macrophages are a key component of the tumor microenvironment that act as facilitators of tumor cell migration and invasion, matrix degradation, and angiogenesis. The density of macrophages in the tumor microenvironment has been found to be a prognostic marker of poor outcome for a variety of carcinomas. Evidence from clinical and experimental studies has indicated that tumor-associated macrophages (TAMs) promote solid-tumor metastasis by releasing a variety of cytokines, including chemokines, inflammatory factors, and growth factors [
4
–
6
]. For example, macrophages can promote angiogenesis by secreting IL-1, VEGF, and MMP-2 [
7
]. Growth factors and proteases produced by macrophages can initiate tumorigenesis and enhance tumor progression [
8
]. However, many cytokines that are produced by cancer cells themselves also contribute to carcinogenesis [
9
]. Elevated cytokine expression may be a diagnostic cancer marker. Currently, TAM cytokine profiles are largely unknown. It is unclear whether there are some exclusively TAM-derived cytokines that are functionally essential to tumor progression.
There are different types of macrophages, such as M1 and M2 macrophages [
10
]. Phagocytosis mediated by macrophages (M1 macrophages) is essential to the immune response of animals, as revealed in our previous studies [
11
–
14
]. M2 macrophages can suppress inflammatory responses as well as promote angiogenesis and tissue remodeling and repair [
10
]. Our previous studies indicated that inhibition of microRNA-100 triggered apoptosis of breast and cancer cells by inhibiting ubiquitination-mediated p53 degradation [
15
,
16
], revealing a vital role of microRNAs in tumor progression. To further explore the role of macrophages in tumor progression, the proteins secreted by macrophages were characterized in this study. The results indicated that M2 macrophages are recruited by tumor cells. The M2-secreted chitinase 3-like protein 1 (CHI3L1) promoted the metastasis of gastric and breast cancer cells by triggering the mitogen-activated protein kinase (MAPK) signaling pathway. Therefore, our study revealed a novel macrophage-mediated mechanism that underlies cancer cell metastasis.
Methods
Identification of CHI3L1 secreted by M2 macrophages
M1 and M2 macrophages were cultured in serum-free medium for 24 h. Then, the culture supernatants were collected and were dialysed against 1 L of distilled water overnight at 4 °C. The secreted proteins were resolved on a 15% SDS-PAGE denaturing gel and were visualized using Coomassie Brilliant Blue. The protein band of interest was removed for mass spectrometry analysis.
Identification of cell-membrane receptors that interact with CHI3L1 protein
GST (glutathione S transferase)-conjugated CHI3L1 protein was expressed in
E. coli
BL21 cells and was purified using standard protocols. Glutathione-Sepharose beads (GE Healthcare, Waukesha, WI, USA) coupled with either GST or with the GST-CHI3L1 purified protein were incubated with the solubilized membrane proteins for 1 h at 4 °C. The membrane proteins of the gastric and breast cancer cells were extracted using a ProteoExtract Native Membrane Protein Extraction kit (Calbiochem, San Diego, CA, USA) according to the manufacturer's instructions. After rinsing the beads three times with washing buffer (50 mM HEPES-KOH, 150 mM NaCl, 1 mM MgCl
2
, 0.2% Triton-X-100, pH 7.2), the proteins bound to the beads were separated using 10% SDS-PAGE and were visualized using Coomassie Brilliant Blue R-250 staining. The differentially apparent proteins were excised from the gel and were identified using mass spectrometry.
Assessment of breast cancer metastasis in vivo
The breast cancer metastasis assay was conducted in mice. All the experiments using animals were performed in accordance with a protocol approved by the Institutional Animal Care and Use Committee (IACUC). Female nude mice of between 5 and 6 weeks old were used in this study. Breast cancer cells (i.e., 2 × 10 5 MDA-MB-231 cells or 8 × 10 5 MDA-MB-435 cells) stably expressing the firefly luciferase reporter were mixed with 100 μl of PBS, and the mixture was intravenously injected into the mice. 3 days later, either recombinant CHI3L1 protein (rCHI3L1) or PBS (as the control) was injected into the mice via the tail vain at a dosage of 100 μg/kg of body weight. rCHI3L1 or PBS was injected twice a week over a 7-week (MDA-MB-231) or 11-week period (MDA-MB-435). For in vivo imaging, the mice were given the substrate D-luciferin by intraperitoneal injection at a dosage of 150 mg/kg in PBS, after which lung metastasis was quantified every 2 weeks by bioluminescence imaging using an IVIS Spectrum Imaging System (Perkin Elmer). Bioluminescence analysis was performed using Living Image software version 4.5 (Perkin Elmer). The solid tumors of mouse lungs were harvested at the end of the experimental period for further evaluation.
Detection of CHI3L1 protein in the sera of healthy donors and metastatic cancer patients
Serum samples were obtained from patients in The First Affiliated Hospital of Bengbu Medical College, China. The samples were collected with the informed consent of the patients, and all related procedures were performed with the approval of the internal review and ethics boards of the indicated hospital. For the co-immunoprecipitation assay, the sera were centrifuged at 12,000 × 
g
and 4 °C for 10 min. Then, the supernatants were diluted in EBC lysis buffer (50 mM Tris–HCl, 120 mM NaCl, and 2 mM PMSF). To remove the antibodies from the sera, the supernatants were incubated with Dynabeads® protein G (Invitrogen) with gentle rotation at 4 °C for 2 h. After centrifugation at 5,000 × 
g
for 5 min, the supernatants were incubated with the anti-CHI3L1 IgG-conjugated Dynabeads® protein G with gentle rotation at 4 °C overnight. Subsequently, the mixture was washed twice using EBC lysis buffer and was analyzed by western blotting using the anti-CHI3L1 IgG.
Statistical analysis
All biological experiments were repeated three times independently. Numerical data were analyzed using a one-way analysis of variance. The statistical significance between treatments was analyzed using Student's
t
test.
Results
Discussion
Metastasis represents a continuum that begins with cancer cell invasion through the basement membrane into the surrounding stroma, which is followed by extravasation into the circulatory system and the establishment of neoplastic cell colonies at distant sites [
22
]. There is increasing evidence that macrophages play important roles in modulating the tumor metastatic capacity [
23
]. Macrophages originate from blood monocytes and differentiate into distinct macrophage types, which are typically identified as M1 (classically activated) and M2 (alternatively activated) macrophages. M1 macrophages are efficient immune effector cells that kill invading microorganisms and tumor cells, present antigens and produce high levels of T-cell stimulatory cytokines. M2 macrophages, however, have poor antigen-presenting capabilities [
24
]. These cells produce factors that suppress T-cell proliferation and activity and are generally better adapted to promoting angiogenesis and tissue remodeling and repair. Increasing amounts of data have shown that tumor-associated macrophages (TAMs) are polarized M2 macrophages [
24
]. Genetic studies in mice have indicated that decreased numbers of macrophages in tumors are associated with notably reduced cancer metastasis rates [
25
]. Although it is known that cytokines secreted by TAMs facilitate cancer cell migration, few TAM cytokines have been investigated. It has been reported that the levels of TAM-derived tumor growth factor-β1 (TGF-β1), epidermal growth factor (EGF), chemokine [C-C motif] ligand 18 (CCL18), interleukin (IL)-18, IL-1β, and IL-8 are correlated with tumor progression [
6
,
26
–
30
]. Paracrine loops of colony-stimulating factor-1 (CSF-1)/EGF and granulocyte-macrophage colony-stimulating factor (GM-CSF)/CCL18 between carcinoma cells and macrophages have been shown to lead to increased carcinoma cell invasion [
31
]. However, little is known about the role of the proteins secreted by TAMs in cancer metastasis. The results of this study demonstrated that CHI3L1, which is secreted by M2 macrophages, promoted cancer metastasis by activating the IL-13 receptors of cancer cells. Our study revealed the existence of not only a novel M2-secreted oncogenic protein (not a cytokine) but also a novel mechanism underlying cancer metastasis.
CHI3L1, a glycoprotein, is highly expressed in human tumors [
32
]. The administration of CHI3L1 has been shown to promote endothelial cell migration and tube formation in vitro but fails to protect cervical cancer cells against apoptosis induced by γ-irradiation [
33
]. However, the effect of M2 macrophage-derived CHI3L1 on cancer metastasis is not previously addressed. The findings of this study revealed that CHI3L1 specifically bound to the interleukin (IL)-13 receptor α2 chain (IL-13Rα2) of gastric and breast cancer cells, thus promoting cancer metastasis. These findings were consistent with previously reported data [
34
]. As a binding partner of IL-13Rα2, transmembrane protein 219 (TMEM219) plays a critical role in IL-13Rα2-mediated pulmonary melanoma metastasis [
35
]. CHI3L1 stimulation leads to TGF-β1 production during lung metastasis [
35
]. In our study, the results showed that the activation of IL-13Rα2 triggered the downstream MAPK signaling pathway through the phosphorylation of ERK 1/2 and JNK. The phosphorylation of ERK1/2 and JNK led to the recruitment of activator protein (AP)-1 family members (transcription factors) in the nuclei [
19
,
21
] and thus promoted AP-1 target gene expression [
36
]. The AP-1 target genes are a family of MMPs [
19
,
36
–
38
]. In the stroma of invasive carcinomas, tumor cells produce a variety of proteases, including various MMPs, to degrade the basement membrane and the surrounding extracellular matrix (ECM), which leads to fibronectin being exposed to the tumor cells [
39
]. Therefore, CHI3L1 could promote the regional or distal metastasis of cancer. Our data indicated that the CHI3L1 levels in the sera of patients with cancer were significantly elevated compared with those of healthy donors, which suggests its potential as a diagnostic marker of gastric and breast cancers.
Conclusions
In summary, these data showed that the M2-secreted chitinase 3-like protein 1 (CHI3L1) could promote the metastasis of gastric and breast cancer cells by triggering the mitogen-activated protein kinase (MAPK) signaling pathway. In this context, CHI3L1 has the potential to be a therapeutic target for metastatic cancer. The clinical diagnostic strategy of assessing serum CHI3L1 protein levels merits future investigation.
Acknowledgements
Not applicable.
Funding
This study was financially supported by the National Natural Science Foundation of China (31430089) and National Program on the Key Basic Research Project (2015CB755903).
Availability of data and materials
All data generated or analyzed during this study are included in this published article (and its Additional file
1
).
Authors' contributions
XZ designed and supervised the study. YC and SZ performed the experiments. YC and SZ analyzed the data. YC and XZ wrote the paper. QW contributed to the research material. All authors approved the final version of the manuscript.
Competing interests
The authors declare that they have no competing interests.
Consent for publication
Not applicable.
Ethics approval and consent to participate
Samples were collected with the informed consent of the donors, and all related procedures were performed with the approval of the internal review and ethics boards of The First Affiliated Hospital of Bengbu Medical College. All the experiments using animals were performed in accordance with a protocol approved by the Institutional Animal Care and Use Committee (IACUC).
Open Access
This article is distributed under the terms of the Creative Commons Attribution 4.0 International License (
http://​creativecommons.​org/​licenses/​by/​4.​0/​
), which permits unrestricted use, distribution, and reproduction in any medium, provided you give appropriate credit to the original author(s) and the source, provide a link to the Creative Commons license, and indicate if changes were made. The Creative Commons Public Domain Dedication waiver (
http://​creativecommons.​org/​publicdomain/​zero/​1.​0/​
) applies to the data made available in this article, unless otherwise stated.