01.08.2011 | Gastrointestinal Oncology | Ausgabe 8/2011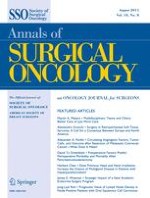 Tumor Site and Perigastric Nodal Status are the Most Important Predictors of Para-Aortic Nodal Involvement in Advanced Gastric Cancer
Zeitschrift:
Autoren:

MD Giovanni de Manzoni, MD Alberto Di Leo, MD Franco Roviello, MD Daniele Marrelli, MD Simone Giacopuzzi, MD Anna Maria Minicozzi, MD Giuseppe Verlato
Abstract
Background
This study was designed to identify pathological predictors of para-aortic nodal invasion in advanced gastric cancer.
Methods
Between 1990 and 2007, 294 patients with advanced gastric cancer underwent gastrectomy with D2 lymphadenectomy + para-aortic nodal dissection in Siena and Verona, Italy.
Results
Forty-seven (16%) patients had para-aortic node metastases. Of these, 91%, 88%, and 74%, respectively, also had metastases at stations No. 3, No. 1, and No. 7. Para-aortic node metastases were never observed when stations No. 1 and No. 3 were both negative. Patients were divided into three groups, according to the risk of para-aortic node invasion: (1) high-risk group (
n
= 24, 8.2%), presenting a 42% risk and comprising T3/T4 cancers with mixed/nonintestinal histology, arising from the upper third; (2) low-risk group (
n
= 138, 46.9%), presenting a 0–10% risk and including middle-lower third tumors—either T2 irrespective of histology, or T3/T4 with intestinal histology; (3) intermediate-risk group, comprising all other patients (
n
= 132, 44.9%). Their risk ranged between 16% and 30%, but increased up to 21–37.5% after excluding 33 patients with negative No. 1 and No. 3 stations.
Conclusions
The combination of tumor site, histology, and T stage with perigastric nodal status allowed identification of patients at higher risk of para-aortic nodal invasion who could benefit from para-aortic nodal dissection.