20.04.2021 | Original Article | Ausgabe 8/2021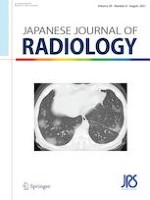 Tumor volume-adapted SUVN as an alternative to SUVpeak for quantification of small lesions in PET/CT imaging: a proof-of-concept study
Zeitschrift:
Autoren:

Mohammad Amin Mosleh-Shirazi, Zahra Nasiri-Feshani, Pardis Ghafarian, Mehrosadat Alavi, Gholamhasan Haddadi, Ali Ketabi
Wichtige Hinweise
Publisher's Note
Springer Nature remains neutral with regard to jurisdictional claims in published maps and institutional affiliations.
Abstract
Purpose
SUVpeak is a recommended quantification metric except for small lesions. We aimed to assess the averaged standard uptake value (SUVN) as an alternative to SUVpeak for small-lesion quantification.
Materials and methods
NEMA-like phantom images were reconstructed using OSEM, OSEM + PSF, OSEM + TOF and OSEM + TOF + PSF with two post-smoothing Gaussian filters for different background activity levels. SUV
max
, SUV
N
(
N
 = 5, 10, 15, 20, 25, 30, 35 or 40 hottest voxels), and SUV
peak
, relative percent error, contrast recovery, and volume recovery coefficients were quantified and assessed.
Results
SUV
N
did not have the limitations of SUV
peak
for smaller lesions. In the smallest insert at 2.68 kBq/ml, optimum
N
values for OSEM, OSEM + PSF, OSEM + TOF and OSEM + TOF + PSF were 10, 5, 15, and 10 for SUV
N
, respectively. The same
N
values were obtained for metabolic tumor volumes (MTVs) for all reconstruction algorithms. At 5.30 kBq/ml,
N
= 5 was optimum for SUV
N
and MTVs. For the larger inserts, the optimum
N
increased and tended towards the maximum (similar to SUV
peak
).
Conclusions
SUVN is more accurate than SUVmax or SUVpeak for small lesions, while being as accurate in larger ones. This harmonizing capacity of SUVN can be beneficial for the quantitative analysis of small tumor volumes.