13.09.2017 | Preclinical study | Ausgabe 1/2018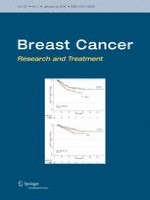 Tumour-infiltrating lymphocytes (TILs)-related genomic signature predicts chemotherapy response in breast cancer
Zeitschrift:
Autoren:

Mariko Kochi, Takayuki Iwamoto, Naoki Niikura, Giampaolo Bianchini, Shinobu Masuda, Taeko Mizoo, Tomohiro Nogami, Tadahiko Shien, Takayuki Motoki, Naruto Taira, Yutaka Tokuda, Hiroyoshi Doihara, Junji Matsuoka, Toshiyoshi Fujiwara
Wichtige Hinweise
Electronic supplementary material
The online version of this article (doi:
10.​1007/​s10549-017-4502-3
) contains supplementary material, which is available to authorized users.
Abstract
Purpose
The present study evaluated whether morphological-measured stromal and intra-tumour tumour-infiltrating lymphocytes (TILs) levels were associated with gene expression profiles, and whether TILs-associated genomic signature (GS) could be used to predict clinical outcomes and response to therapies in several breast cancer subtypes.
Methods
We retrospectively evaluated haematoxylin eosin (HE)-TILs levels and gene expression profiling data from 40 patients with primary breast cancer and extracted the 22 overexpressed genes in cases with high TILs scores as the TILs-GS. The TILs-GS were compared with breast cancer subtype and were evaluated predictive values for prognosis and response to therapies.
Results
Higher TILs-GS expressions were observed for triple-negative and human epidermal growth factor receptor 2 (HER2) positive (+) breast cancers, compared to the luminal types (
P
< 0.001). With the exception of HER2+, the TILs-GS had no prognostic value in subtypes of breast cancers. The Wilcoxon test revealed significantly different TILs-GS levels between the cases with pathological complete response (pCR) and residual disease after anthracycline and taxane-based neoadjuvant chemotherapy, with the exception of the luminal-low proliferation subtype. In the multivariate analysis, pCR was independently associated with smaller tumour size, higher histological grade, ER negativity, HER2 positivity and higher TILs-GS scores (OR 2.02, 95% CI 1.30–3.14,
P
= 0.025).
Conclusions
TILs-GS was associated with stromal and intra-tumour TILs levels, as evaluated using HE, which predicted prognosis and chemotherapy response in several breast cancer subtypes. Further studies are needed to perform stratification according to TILs-GS levels and the conventional breast cancer subtypes.