30.06.2018 | Original Research | Ausgabe 4/2018 Open Access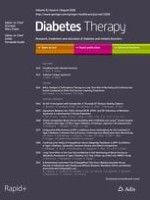 Turkish Insulin Injection Technique Study: Population Characteristics of Turkish Patients with Diabetes Who Inject Insulin and Details of Their Injection Practices as Assessed by Survey Questionnaire
Zeitschrift:
Autoren:

Selcuk Dagdelen, Oguzhan Deyneli, Nermin Olgun, Zeynep Osar Siva, Mehmet Sargin, Sükrü Hatun, Mustafa Kulaksizoglu, Ahmet Kaya, Cansu Aslan Gürlek, Laurence J. Hirsch, Kenneth W. Strauss, the ITQ Turkish Study Group
Wichtige Hinweise
Enhanced Digital Features
Abstract
Introduction
Over 7 million people in Turkey have diabetes. Of the 1 million who inject insulin little is known of their habits and injection techniques.
Methods
We conducted an Injection Technique Questionnaire (ITQ) survey throughout Turkey that involved 1376 patients from 56 centers. Turkish values were compared with those from 41 other countries participating in the ITQ, known here as Rest of World (ROW).
Results
The majority (50.4%) of Turkish insulin users give four injections/ day as opposed to ROW, where only 30.9% do. The abdomen is the most common injection site used by Turkish patients, but they also inject insulin in multiple body sites more often than do patients in ROW. Body mass index values in Turkey were 0.75 units higher than those in ROW as was the mean total daily dose (average daily dose [ADD]) of insulin (54.0 IU in Turkey vs. 47.4 IU in ROW). Mean glycated hemoglobin (HbA1c) in Turkey was 9.1%, which is higher than in ROW and possibly related to the higher BMI and ADD. Turkish patients use insulin analogs (short and long-acting) more frequently than do patients in ROW. The shortest pen needles (4 mm) are used by about one-third of patients in Turkey, but the longer ones (8 mm) are equally common. Needles are reused in Turkey at a rate of 3.4 injections/single needle. However, needle reuse, whether with pens or syringes, is lower in Turkey than ROW, as is the number of times a reused needle is used. More than 75% of used sharps in Turkey go into the rubbish, with nearly 6% having no protection of the tip.
Conclusion
The continued use of 8-mm needles raises the risk of intramuscular injections in Turkish patients. Despite full reimbursement, needle reuse still remains an important issue. More focus needs to be given to dwell times under the skin, reconstitution of cloudy insulant, correct use of skin folds and safe disposal of sharps.
Funding
BD Diabetes Care.