13.02.2019 | Original Article | Ausgabe 4/2019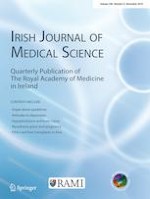 Twenty-four-hour urine NE level as a predictor of the therapeutic response to metoprolol in children with recurrent vasovagal syncope
Zeitschrift:
Autoren:

Qingyu Kong, Xiaofei Yang, Zhifeng Cai, Yanyan Pan, Minmin Wang, Mengmeng Liu, Cuifen Zhao
Wichtige Hinweise
Qingyu Kong and Xiaofei Yang contributed equally to this work.
Publisher's note
Springer Nature remains neutral with regard to jurisdictional claims in published maps and institutional affiliations.
Abstract
Background
Vasovagal syncope (VVS) is a heterogeneous disorder that creates challenges for treatment. Metoprolol is an important therapeutic option for children with VVS.
Aims
The study examined the predictive value of 24-h urine norepinephrine (NE) levels in the assessment of the therapeutic efficacy of metoprolol for recurrent VVS in children.
Methods
Thirty-eight children with recurrent VVS and 20 healthy children were enrolled in our study. Twenty-four-hour urine NE levels were measured by LC-MS-MS. VVS children were diagnosed by BHUTT and/or SNHUTT, and received metoprolol treatment for 3 months. Symptom scoring was utilized to evaluate the therapeutic effect. A ROC curve was used to investigate the predictive value of 24-h urine norepinephrine levels.
Results
There exists significant correlation between 24-h urine NE levels and supine systolic and diastolic blood pressures. The 24-h urine NE levels of responders (40.75 ± 12.86 μg/24 h) were higher than those of nonresponders (21.48 ± 6.49 μg/24 h), and there was a significant difference between the two groups (
P
 < 0.001). A ROC curve of the predictive value of 24 h urine NE levels revealed that the area under the curve was 0.926. A cutoff value for 24-h urine NE level of 34.84 μg/24 h produced both high sensitivity (70%) and specificity (100%) in predicting the efficacy of metoprolol therapy for VVS.
Conclusions
Patients with high 24-h urine NE levels have higher supine systolic and diastolic pressures and more effective responses to metoprolol. A 24-h urine norepinephrine level of > 34.84 μg/24 h was an indicator of the effectiveness of metoprolol therapy for VVS in children.