01.12.2020 | Review | Ausgabe 1/2020 Open Access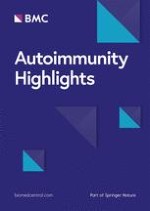 Twenty years of research on the DFS70/LEDGF autoantibody-autoantigen system: many lessons learned but still many questions
Zeitschrift:
Autoren:

Greisha L. Ortiz-Hernandez, Evelyn S. Sanchez-Hernandez, Carlos A. Casiano
Wichtige Hinweise
Publisher's Note
Springer Nature remains neutral with regard to jurisdictional claims in published maps and institutional affiliations.
Abbreviations
AIDS
acquired immunodeficiency syndrome
ANA
antinuclear autoantibodies
AOP2/PRDX6
antioxidant protein 2/peroxiredoxin-6
AARD
ANA-associated rheumatic diseases
CDC-ASK
subunit and activator of S-phase kinase
cDNA
complementary deoxyribonucleic acid
ChIP-seq
chromatin immunoprecipitation sequencing (ChIP-seq)
CIA
chemiluminescence immunoassay
CRISPR/Cas9
clustered regularly interspaced short palindromic repeats/Cas 9 enzyme
CtIP
carboxy-terminal interacting protein
DFS70
dense fine speckled protein of 70 kilodaltons
ELISA
enzyme-linked immunosorbent assay
ERp57
endoplasmic reticulum protein of 57 kilodaltons
FACT
facilitates chromatin transcription
FxFG
phenylalanine–glycine repeats
GFP
green fluorescent protein
HATH
homologous to amino terminus of hepatoma-derived growth factor
H3K36me2/3
dimethylated and trimethylated lysine 36 in histone H3
HDGF
hepatoma derived growth factor
HIV-IN
human immunodeficiency virus 1 integrase
HRP2/HDGF2
hepatoma derived growth factor related protein 2
HSP27
heat-shock protein of 27 kilodaltons
IBM
IBD-binding short linear motif
ICAP
International Consensus on ANA Patterns
IDR
intrinsically disordered region
IIF
indirect immunofluorescence
IIFA
indirect immunofluorescence assay
IWS1
interacts with SUPT6H, carboxy-terminal domain assembly factor 1
JPO2/CDCA7L
cell division cycle-associated 7-like protein
LEDGF/p75
lens epithelium-derived growth factor protein of 75 kilodaltons
MDA5
melanoma differentiation-associated gene 5
MeCP2
methyl-CpG-binding protein 2
mESC
mouse embryonic stem cells
MHC II
major histocompatibility complex II
mRNA
messenger ribonucleic acid
NLS
nuclear localization signal
NOVA1
RNA-binding neuro-oncological ventral antigen 1
PIP3-E/IPCEPF-1
interactor protein for cytohesin exchange factors 1
PogZ
pogo transposable element with zinc finger domain
PSIP1
PC4 and SFRS1 interacting protein 1
PTM
post-translational modification
PWWP
proline-tryptophan-tryptophan-proline
SARD
systemic autoimmune rheumatic diseases
SLE
systemic lupus erythematosus
SOD3
extracellular superoxide dismutase
SRD
supercoiled recognition domain
SRSF1
serine/arginine-rich splicing factor 1
SSRP1
structure specific recognition protein 1
STAT3β
signal transducer and activation of transcription 3 beta
TALEN
transcription activator-like effector nuclease
TGF-β
transforming growth factor beta
TOX4
toxoplasmosis high mobility group box family member 4
UCTD
undifferentiated connective tissue disease
VEGF-C
vascular endothelial growth factor C
ΔC
deletion in carboxy-terminal domain
ΔN
deletion in amino-terminal domain
γGCS-HS
gamma glutamyl cysteine synthase heavy subunit
Introduction
Autoantibodies targeting macromolecules (e.g. DNA and proteins) associated with nuclear, cytoplasmic, and mitotic structures, commonly known as ANAs, are well established biomarkers for the differential diagnosis of systemic autoimmune rheumatic diseases (SARD) and tools in the molecular characterization of their target antigens [
1
,
2
]. These autoantibodies, routinely detected by the HEp-2 IIFA test, are not necessarily restricted to SARD since they have been reported, albeit often at relatively lower frequencies and titers, in patients with cancer and diverse inflammatory conditions [
1
,
2
]. Given the growing number of discovered ANAs, with their distinctive IIF patterns in HEp-2 cells, the International Consensus on ANA Patterns (ICAP) initiative (
www.​anapatterns.​org
) has recently reached consensus on the nomenclature, definition, and clinical relevance of 29 IIF ANA patterns, which are ascribed a code from AC-1 to AC-29 [
3
]. AC-2 defines the DFS IIF pattern as having three main features: (1) fine speckles distributed throughout the interphase nucleus with characteristic heterogeneity in their size, brightness and distribution; (2) denser and looser areas of speckles throughout the interphase nucleus; and (3) strong speckled pattern in the metaphase plate with some coarse speckles standing out.
The DFS IIF pattern is produced by autoantibodies to a nuclear, chromatin-associated protein of approximately 70 kD most commonly known as DFS70 or LEDGF/p75. Given the longstanding and widespread use of both names to refer to the same protein in the fields of autoimmunity, cancer, HIV/AIDS, and ocular diseases, we will use the term DFS70/LEDGF throughout this review. Although autoantibodies to DFS70/LEDGF were initially associated with atopic diseases and other miscellaneous inflammatory conditions, recent studies with more specific and sensitive antibody detection tests have challenged some of the initial observations while at the same time failing to provide a definite answer to the question we posed to the field in 2004: "what exactly are these autoantibodies trying to tell us?" [
4
]. In this review we discuss historical and current perspectives concerning our understanding of the enigmatic DFS70/LEDGF autoantibody-autoantigen system, and identify emerging questions that may guide our efforts to unearth its clinical and biological significance.
Historical perspectives on DFS70/LEDGF biology: what we know
Historical perspectives on the autoantibodies to DFS70/LEDGF: what we know
Conclusions
Compelling evidence points to a biological role for DFS70/LEDGF as a DNA-associated protein that interacts with multiple partners to tether them to transcriptionally active sites in chromatin as a mechanism to modulate RNA pol II transcription, mRNA splicing, and DNA repair. Because of these fundamental functions, DFS70/LEDGF is able to contribute to several biological processes, including development, cellular stress response and survival, malignant transformation, and HIV-1 integration. Some of the protein–protein interactions involving this protein have already been implicated in various pathologies, including HIV/AIDS, medulloblastoma, leukemia, prostate cancer, Rett Syndrome, and autoantibody responses (Fig.
6
).
As we commemorate this year the 20th anniversary of the first report on the characterization of the DFS70/LEDGF autoantibody/autoantigen system, we are still in search for answers to our old question of "what exactly are the anti-DFS70 autoantibodies trying to tell us?" [
4
]. While it is undisputable that the past 20 years have brought a better understanding of the basic biology of DFS70/LEDGF in health and disease, and more clarity about the clinical utility of the anti-DFS70/LEDGF antibodies as potential biomarkers for the exclusion of an SARD diagnosis, it is also evident that the clinical and biological significance of these autoantibodies still remain enigmatic. A careful consideration of the most pressing questions in the field, some of which were briefly discussed above, should advance research aimed at unraveling the significance and potential clinical and therapeutic utility of these antibodies. An in-depth knowledge of the biology of DFS70/LEDGF and the clinical significance of its associated autoantibodies promises to yield translational innovations that could dramatically improve the lives of patients with diseases in which this protein is aberrantly regulated and functionally relevant.
Acknowledgements
We are grateful to our numerous colleagues across the world in the fields of systemic autoimmunity, cancer, and HIV/AIDS who through the years have engaged our group in stimulating discussions about DFS70/LEDGF, and have provided unique reagents to advance our research efforts on this fascinating autoantibody/autoantigen system.
Ethics approval and consent to participate
Not applicable.
Competing interests
CAC has served as advisor to Inova Diagnostics, a company that develop assays for the detection of anti-DFS70/LEDGF autoantibodies, and has collaborated with this company in the study of these autoantibodies. GLOH and ESSH declare that they have no competing interests.
Open Access
This article is licensed under a Creative Commons Attribution 4.0 International License, which permits use, sharing, adaptation, distribution and reproduction in any medium or format, as long as you give appropriate credit to the original author(s) and the source, provide a link to the Creative Commons licence, and indicate if changes were made. The images or other third party material in this article are included in the article's Creative Commons licence, unless indicated otherwise in a credit line to the material. If material is not included in the article's Creative Commons licence and your intended use is not permitted by statutory regulation or exceeds the permitted use, you will need to obtain permission directly from the copyright holder. To view a copy of this licence, visit
http://​creativecommons.​org/​licenses/​by/​4.​0/​
.
Publisher's Note
Springer Nature remains neutral with regard to jurisdictional claims in published maps and institutional affiliations.