17.08.2017 | Original Research | Ausgabe 2/2017 Open Access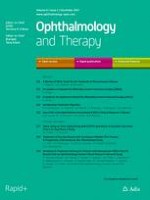 Twice-Daily vs. Once-Daily Dosing with 0.075% Bromfenac in DuraSite: Outcomes from a 14-Day Phase 2 Study
Zeitschrift:
Autoren:

William Trattler, Kamran Hosseini
Abstract
Introduction
Bromfenac is a well-known topical ophthalmic nonsteroidal anti-inflammatory drug (NSAID) that is commercialized in the USA and other regions of the world. A new formulation, 0.075% bromfenac in DuraSite®, was developed to treat postoperative inflammation and reduce pain in patients who have undergone cataract surgery. We hypothesized that efficacy and safety would be enhanced with twice-daily (BID) dosing compared to once-daily (QD) dosing.
Methods
This was a multicenter, double-masked, comparative study in which 40 and 45 subjects were randomized to groups receiving BID dosing and QD dosing, respectively. Subjects self-instilled the study drug for 14 days postoperative and were followed for an additional 2-week evaluation phase. The primary efficacy endpoint was the proportion of subjects with an anterior chamber cell (ACC) grade of 0 at day 15.
Results
A total of 45 subjects had cleared ACC (grade "0") at day 15, of whom 21 were in the BID group (52.5%) and 24 were in the QD group (53.5%). A secondary analysis found 7/40 (17.5%) subjects in the BID group and 10/45 (22.2%) subjects in the QD group achieved an ACC grade of 0 at day 8. There were more adverse events in the QD group (
n
= 16) than in the BID group (
n
= 12).
Conclusion
Similar outcomes were observed for subjects using Bromfenac 0.075% in DuraSite® in the BID and QD dosing regimens for the treatment of post-cataract surgery inflammation.
Trial registration
ClinicalTrials.gov identifier, NCT01190878.
Funding
InSite Vision (now a division of Sun Pharma).