24.10.2017 | Research Article | Ausgabe 1/2018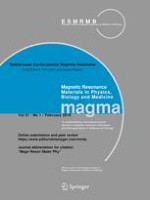 Two-dimensional XD-GRASP provides better image quality than conventional 2D cardiac cine MRI for patients who cannot suspend respiration
Autoren:

Eve Piekarski, Teodora Chitiboi, Rebecca Ramb, Larry A. Latson Jr, Puneet Bhatla, Li Feng, Leon Axel
Abstract
Objectives
Residual respiratory motion degrades image quality in conventional cardiac cine MRI (CCMRI). We evaluated whether a free-breathing (FB) radial imaging CCMRI sequence with compressed sensing reconstruction [extradimensional (e.g. cardiac and respiratory phases) golden-angle radial sparse parallel, or XD-GRASP] could provide better image quality than a conventional Cartesian breath-held (BH) sequence in an unselected population of patients undergoing clinical CCMRI.
Materials and methods
One hundred one patients who underwent BH and FB imaging in a midventricular short-axis plane at a matching location were included. Visual and quantitative image analysis was performed by two blinded experienced readers, using a five-point qualitative scale to score overall image quality and visual signal-to-noise ratio (SNR) grade, with measures of noise and sharpness. End-diastolic and end-systolic left ventricular areas were also measured and compared for both BH and FB images.
Results
Image quality was generally better with the BH cines (overall quality grade for BH vs FB images 4 vs 2.9,
p
< 0.001; noise 0.06 vs 0.08
p
< 0.001; SNR grade 4.1 vs 3,
p
< 0.001), except for sharpness (
p
= 0.48). There were no significant differences between BH and FB images regarding end-diastolic or end-systolic areas (
p
= 0.35 and
p
= 0.12). Eighteen of the 101 patients had poor BH image quality (grade 1 or 2). In this subgroup, the quality of the FB images was better (
p
= 0.0032), as was the SNR grade (
p
= 0.003), but there were no significant differences regarding noise and sharpness (
p
= 0.45 and
p
= 0.47).
Conclusion
Although FB XD-GRASP CCMRI was visually inferior to conventional BH CCMRI in general, it provided improved image quality in the subgroup of patients with respiratory-motion-induced artifacts on BH images.