01.12.2014 | Research article | Ausgabe 1/2014 Open Access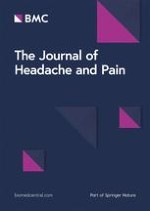 Two doses of botulinum toxin type A for the treatment of trigeminal neuralgia: observation of therapeutic effect from a randomized, double-blind, placebo-controlled trial
Zeitschrift:
Autoren:

Haifeng Zhang, Yajun Lian, Yunqing Ma, Yuan Chen, Caihong He, Nanchang Xie, Chuanjie Wu
Wichtige Hinweise
Electronic supplementary material
The online version of this article (doi:
10.​1186/​1129-2377-15-65
) contains supplementary material, which is available to authorized users.
Haifeng Zhang, Yunqing Ma contributed equally to this work.
Competing interest
The authors declare that they have no competing interest.
Authors' contribution
Y-JL - Study concept and design. H-FZ - carried out the treatment and studies, drafted the manuscript Y-QM - acquisition of data. C-HH - participated in the sequence alignment, analysis and interpretation. DYC - revise the manuscript. N-CX, C-JW - study supervision. All authors read and approved the final manuscript.
Abstract
Background
In the majority of cases, trigeminal neuralgia (TN) is a unilateral condition with ultra-short stabbing pain located along one or more branches of the trigeminal nerve. Although prophylactic pharmacological treatment is first choise, considering of insufficient effect or unacceptable side effects, neurosurgical treatment or lesion treatment should be considered. In addition to all these procedures mentioned above, one approach has been based on local intradermal and/or submucosal injections of Botulinum Toxin Type A (BTX-A).
Methods
We conducted a randomized, double-blind, placebo-controlled since November 2012, and adopted local multi-point injection in 84 cases of classical TN with different doses of BTX-A. Eighty four patients were randomized into following groups: placebo (n = 28); BTX-A 25U (n = 27); BTX-A 75U (n = 29). Follow-up visits were conducted every week after the injection, and the overall duration of the study for each patient were 8 weeks to observe the pain severity, efficacy and adverse reactions at endpoint.
Results
The visual analogue scale (VAS) scores of 25U and 75U groups reduced significantly compared to placebo as early as week 1, and sustained until week 8 throughout the study. There was no significant difference in VAS between 25U and 75U groups throughout the study. The response rates of 25U group (70.4%) and 75U group (86.2%) were significantly higher than placebo group (32.1%) at week 8, and there was no significant difference between 25U and 75U groups. Evaluation of the Patient Global Impression of Change (PGIC) demonstrated that 66.7% (25U group) and 75.9% (75U group) of the patients reported that their pain symptoms were 'much improved' or 'very much improved' versus 32.1% of the placebo group, and there was also no significant difference between 25U and 75U groups. All adverse reactions were graded as mild or moderate.
Conclusions
BTX-A injection in TN is safe and efficient. It is a useful treatment for refractory TN. Lower dose (25U) and high dose (75U) were similar in efficacy in short-term.